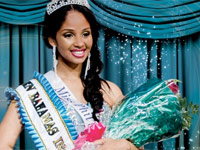 On Sunday, August 3, the most beautiful women from throughout the country will face off in not one, but two competitions to choose the nation's ambassadors to the Miss World and Miss Universe pageants.
The double-header event – under the theme "Beauty Personified" – will be an historic moment for the Miss Bahamas pageant. For the first time, all contestants competing in the national finals will be winners representing districts from across the country.
The Miss World Bahamas Pageant will be a Matinee show from 3 to 5 p.m. A cocktail reception will be held for VIP ticket holders, District Directors and Sponsors from 6 to 7 p.m. and the Miss Universe Bahamas Pageant will be held from 7 to 9 p.m. The Atlantis Grand Ballroom will be the venue for all three events.
The new system is being hailed as "brilliant" by pageant professionals in the country, who agree that it presents a "win- win" scenario on several fronts. First and foremost, the level of competition is being enhanced as the contestants who make it to the national finals will have already triumphed in their respective district competitions. Secondly, it gets pageant professionals throughout the country involved in the process while promoting a healthy competition amongst them. Thirdly, the new pageant format will foster community pride, as the brightest and best young women carry their island/district banners to the national pageants. According to MBO President Michelle Malcolm, this new system has already injected much excitement in Bahamian pageant circles.
"The response to the idea has been very encouraging", said Miss Malcolm. "So far we have confirmed directors from Abaco, Andros, Bimini and The Berry Islands, Crystal Cay, Eleuthera, Exuma, Grand Bahama, Long Island, New Providence, Ocean Cay, Paradise Island, and San Salvador and we are in talks with others. One good thing about this new system is it puts the responsibility of searching for contestants into the hands of the district directors, which frees the Miss Bahamas Organization to concentrate on other things like preparing our winners for their international competitions. We are very excited about the future under this new system," she added.
As the official Host Hotel of the Miss Bahamas Pageants, the Atlantis Resort will once again be offering a dream weekend for pageant lovers. The resort will be hosting the Miss Teen USA pageant the same weekend as Miss World Bahamas and Miss Universe Bahamas, all on the same stage.
Tickets for the Miss World Bahamas and Miss Universe Bahamas pageants finales will be sold at the Atlantis Box Office, while the pageants' preliminary events tickets will be available at Tripoint Communications on Nassau Street or online atPRESS RELEASE
www.quictick.com. Miss Malcolm explains that special packages are being offered to persons who want to see both shows.
"For pageant lovers, we have an all-inclusive package that includes both pageant finales and all of the preliminary events leading up to them at a cost of only $125, $150 or $175 depending on the level you choose. This represents a savings of more than 40 percent of the cost over purchasing each event separately," she said. "We also have all-inclusive packages available for either Miss World Bahamas or Miss Universe Bahamas for those only interested in one of the two pageants at a cost of $85, $100, or $125. However, the number of packages available is very limited, so we are encouraging interested persons to purchase their tickets early," Miss Malcolm added. Individual tickets will be sold for all events. Finale tickets will be available at a price of $75 VIP, $50 Deluxe, or $35 Preferred. Atlantis will also be offering a special room rate for persons attending the event who wish to stay at the Resort.
According to Miss Malcolm, this new program is already proving to be a huge success, if the caliber of young ladies entering the competitions is any indication.
"You can already tell that our district directors are all aiming for the distinction of becoming the first to win under this new system, and the bragging rights that will go along with it. From what we see so far, these competitions are going to be epic! Some very beautiful ladies from throughout the country will be competing and we sincerely hope that their fellow islanders, friends and families will come out in full force to support them," she said. Miss Malcolm concluded, "Pageant fans should prepare themselves for the best Miss Bahamas pageants ever!"
About MBO
The Miss Bahamas Organization (MBO) is a company that advances and supports today's women through its Passion for Pageantry with a Purpose. Our mission is to bring out the personal bests women seek to achieve by cultivating their passions, self-image, and education in an environment that encourages the pursuit of purpose, promotes discipline, and supports the strengthening of character. The Miss Bahamas Organization will prepare them to take on the world as women who are aware of the power that derives from fulfilling their purpose, and who use that power to impact the welfare of humanity. MBO achieves its mission by training and unveiling the nation's finest women through an annual national beauty pageant system in The Bahamas. This system incorporates months of intensive grooming, coaching and preparation that culminate with the coronation of two goodwill ambassadors, who represent their country in international pageants, promotional events, and charitable endeavors.
More information about the Miss Bahamas Organization is available at www.missbahamas.net