Two stupid "jungalis" women fight over a piece of garbage criminal who is headed to Fox Hill prison.
The women began fighting in the court room as their piece of trash "boyfriend" was being sent to court. The fight then continued outside the court and onto Bank Lane where this live footage was captured.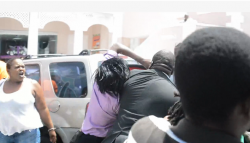 The women argued about who the armed robbery suspect loved before the squabble turned physical.
Police had to separate the two women who got into a hair-pulling fight.
One of the women pushed her rival onto the trunk of a white Lexus GS 400 and grabbed her hair weave.
They exchanged blows as onlookers captured the confrontation on their cell phone cameras before police intervened.
Both women were hustled away to the police station.
Another wonderful advertisement for our 'Vacation Paradise".