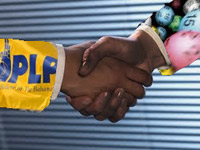 The web shop industry has issued close to $100 million worth of mortgages that are outside the Central Bank's regulatory purview, according to an accomplice of the illegal number racketeers.  The has cost commercial banks $500,000 in fees per annum.
Paul Major, principal of Major Consulting, admitted that the level of technology and sophistication of Bahamian web shop enterprises "far exceeds" that of commercial banks, further eroding the security of the financial sector and making a mockery of Bahamian law.
Mr Major, a consultant to at least two of the illegal enterprises and an advocate of the failed 'Vote Yes' campaign in 2013, said: "These people realise that they operate in a sort of underground economy."  Yet they apparently scoff at the law.  Major admitted that, just like drug dealers, numbers racketeers can't go to court and say 'someone ripped me off'.  Thus, disputes in the industry are settled the same way that the mafia settles their disputes.
Mr Major estimated that close to $100 million in unregulated and illegal mortgages issued by the web shops were not recorded with the Central Bank, and that commercial banks were losing $500,000 in fees a year because fewer people were using them.
It is estimated that aside from the earnings from their illegal gambling activities, the numbers racketeers also launder over $200 million per year for drug and human trafficking operations.