Banking Upheaval in The Bahamas
May 1, 2014
Open letter to:  The Minister of Finance, Nassau, Bahamas.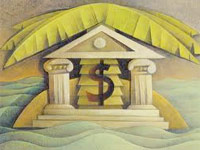 Royal Bank of Canada, Scotiabank and FirstCaribbean Bank are all presently down-sizing.
Bank of the Bahamas is getting adverse reports in the press.
Two Swiss offshore banks are in the process of closing some of their local operations.
I should be obliged to learn why all of these happenings are taking place at this time!
Your assistance in explaining this to me will be greatly appreciated.
By:  Concerned Citizen