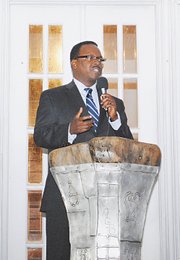 The current economic model of The Bahamas has been described as "unsustainable" by Dr Daniel Johnson, Minister of Youth, Sports and Culture.
His comments came at the United Nations headquarters in New York, at a special debate on culture and sustainable development.
Dr Johnson said that the government was trying to ensure that culture played an important part in the future of tourism to The Bahamas. "Traditionally The Bahamas' 300,000 citizens have relied heavily on tourism to generate most of its economic activity, which has served us well for over 50 years. This small island nation now enjoys over five million tourist visits annually.
"The tourism industry accounts for more than 60 per cent of the country's GDP and provides employment for about one-half of the country's workforce. The second largest contributor to the country's economy is the financial services sector, which accounts for approximately another 20 per cent of our GDP. The Bahamas Government generates its revenue from import taxes on goods imported into the country and tax revenue accounts for about 20 per cent of the country's GDP.
"We in The Bahamas, like so many of our neighbours in the region, have arrived at the consensus that this economic model, as it exists, is unsustainable.