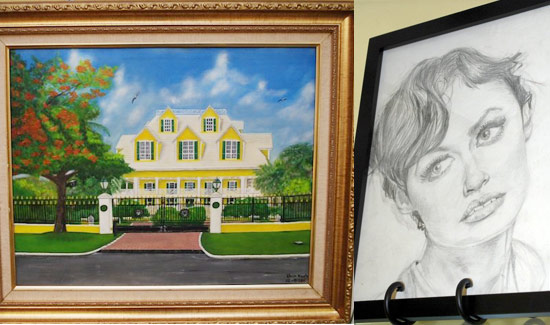 Team members of Atlantis who have a love of and talent for the arts have been given a stage to showcase their work, thanks to top officials at the property.
Featuring art forms like paintings, sculptures, drawings, collages, photography, ceramics, digital art and even published literature, Atlantis launched its Stars Gallery in 2013 to celebrate the diversity of talent that exists among the nearly 8,000 employees.
"When our president and managing director, George Markantonis, discussed the idea of creating a space for our colleagues to display their talents, my thoughts started racing about the many opportunities this could open up for everyone," said Senior Vice-President of Human Resources Karen Carey. "We have a tremendous amount of talent in our company and we're happy that we could allow our colleagues to share their works of art with our very own.
Several installments of Atlantis' Stars Gallery have already been on display since its launch. The initiative has received rave reviews among team members – those creating the works displayed and those viewing them.
• Akeem Stuart
Pool and beach attendant Akeem Stuart began to draw at an early age and was encouraged to continue by his grandfather, who was also interested in the arts. Mr Stuart's submission – "Leading Lady" – a pencil drawing, is based on the lead female character in the 2008 James Bond thriller "Quantum of Solace". He said the movie made such an impression on him that the ideas were just exploding in his head. "I had to draw," he said. "Because of the Stars Gallery I can now show everybody what I can do."
• Elvin Neely
Elvin Neely, a cook stationed at the Royal Towers, submitted "Digman's House" – an oil painting portrayal of the Digman Office building located in Lyford Cay on silk fabric.
"(Stars Gallery) is letting me show off the talent God gave me and by sharing I feel like I'm giving back," he said.
"My love of art developed from pre-school and was encouraged by my mom and one of my primary school teachers. I always liked art. It's been like a comforter to me… I give to my art the same things Atlantis expects of me – pride, determination and time."
• Kejuana Beneby
Kejuana Beneby of Group Accounts is a two-time Stars Gallery featured artist. Her first submission, "The Dancer", features both paint and melted crayon, while her second submission, "Culture Sculpture" – a sculpture of an African head – was created using recycled and other materials.
"A lot of the art that I do is based on innovation. I've worked with a variety of mediums including sculpture, clay, newspaper and recycled art… I'll just have an idea in my head and I try to figure out the best way to display it. I don't like to put myself in a box," she said.
• James Cooper
Assistant Director of Stewarding James Cooper said because of the Stars Gallery initiative he is now motivated to do more with what he considers his gift. Mr Cooper submitted an acrylic painting of Government House and notes that he developed a fondness for art as a young boy in school, although he never considered it more than a hobby. He said he watched and learned from other artists, and although he dabbles with other genres of art, his focus has been on painting landscapes and buildings. He is happy for the opportunity to present his work for show in the Stars Gallery and is already planning his next entry.
"This is a good avenue to motivate staff – especially if they have the talent. It's really motivated me to do more," he said.
• Tanya Rahming
Royal Towers Bell Services Assistant Manager Tanya Rahming said she was privileged to be mentored by noted Bahamian painter and architect Jackson Burnside (now deceased). Her focus of late has been on still life pieces.
"Painted Butterfly," a water colour painting and her Stars Gallery submission, pays homage to what she feels are 'beautiful creatures'.
She said that she is even more so encouraged in her work because of the Stars Gallery initiative. "It's an excellent idea. It's great to know that staff now has this outlet to showcase their artistic talents. It gives us all encouragement and I'm glad that, thanks to George Markantonis, Atlantis is doing this."
• Renbert Mortimer
Ecstatic about the opportunity to showcase his work to such a vast audience, Renbert Mortimer, pool attendant turned manager at The Cove, praised the attention the resort has placed on the creative talents of its team members through the Stars Gallery.
Calling himself a 'caricature artist', Mr Mortimer submitted two caricatures – one he did of former Senior Vice-President of Administration J Barrie Farrington and the other of Royal Towers General Manager and Senior Vice-President Stephen Sawyer – and he is getting major kudos for his efforts. The exaggerated images of the two Atlantis well-knowns have been well received by both subjects as well as viewers from the executive level, right down to the line level employee. "I sketched, scanned and coloured to finish those digital colour pieces; thankfully I made it," he said.
"I realised very early on that I wasn't very good with words, and so I found art. In my work, I try to be funny, so comedy plays a big part in what I do as an artist."

Captions:
Top from left: Elvin Neely "Dingman's House"; Akeem Stuart "Leading Lady"
Side: Kejuana Beneby "Culture Sculpture"