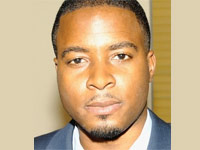 Forget politics. Forget all that petty stuff about PLP, FNM and DNA and all the gratuitously political you say and I say that preoccupy the minds of so many local politicians seeking to score cheap political brownie points. The heavy-handedness that reportedly accompanied the search and seizure of FNM chairman Darron Cash's Cable Beach home ought to give Bahamians pause.
On Thursday, the police purportedly raided Cash's home, in what was termed to be a part of their active investigations into claims of possible policy breaches stemming from the Bank of the Bahamas (BOB). During the incident, it was reported that Mr Cash's two small children had to be whisked away by the family's housekeeper in an attempt to shield them from the dramatic ordeal when a police inspector and two sergeants from the Central Detective Unit (CDU) entered the home. The three officers purportedly seized two laptop computers and a cellular smart phone belonging to Mr Cash. It has been claimed by the FNM that these items were grabbed from his hands and taken by the CDU, who refused to deliver or to leave a copy of the search warrant.
Frankly, if these allegations against the police are true, this appears to be nothing short of a state sanctioned invasion of personal liberty and a true manifestation of Gestapo tactics. There are people who break the law daily but are not subjected to such a totalitarian invasion where their personal and business-related property is stripped from them. Is Mr Cash being investigated for treason or some other crime that could justify the type of treatment reportedly meted out to him?
The fact is that Darron Cash is not your average citizen in that he is known to be the chairman of the Official Opposition and, if one were to merely look at the office he holds, this entire thing could easily seem to have been an act of intimidation. It is very possible that Cash's personal, political and business data could now be compromised!
If there is evidence that the state or agents of the state might be involved in actions that are inconsistent with the best interests of our country and any whistleblower reveals that, can the state hide behind technicalities or loopholes in the law that does not protect whistleblowers or provide for the freedom of information? Should it be covered up just because legislation is not in place to allow for this information to be sought by official channels and disseminated?
I'm not suggesting that this case involves whistle blowing, however if the chairman did receive information from sources regarding the goings-on at the BOB and decides to speak up in the national interest every Bahamian should stand with such an individual. Darron Cash has made quite a number of comments about the much reported happenings at the BOB, where allegations abound about politically driven million dollar loans, the failure of known persons to service and repay their loans and so on.
The BOB and other state owned entities should not be run in the interest of any particular political party or group of individuals, but instead must always be managed and operated in the best interest of the Bahamian people and that right should hold through regardless of who is in power. As the investigation concerning the state-owned BOB continues, there appears to be a failure on the government's part to manage the affairs of this corporate entity, which is seemingly in trouble but without any obvious accountability on behalf of its stewards. Based on recent reports, the BOB has allegedly been run like a political and financial gravy train.
So, considering the Darron Cash incident, on whose authority was the police acting? And, since the Board of the BOB is politically appointed, one cannot so easily disabuse one's self that this could possibly have been a political shakedown!
Who signed the search warrant? I think that the public wants to know. And, is not the norm that when a search warrant is presented, that a copy should be served and left with the person whose subjected to it? Mr Cash claims that this was not done, why not?
Will the offices of local dailies and the homes of journalists soon be crashed and searched for information given to us by sources related to various happenings within this country?
Look, if Mr Cash or anyone associated has violated the Data Protection Act, then he/they ought to be held accountable. However, the method by which he should be held accountable should be based on a uniform approach to law enforcement. Lady Justice is blind and we—as Bahamians— should all be subject to an equal meting out of justice regardless of political affiliation, colour, gender and so on. No person should be subject to an abuse of process or any unjust tactic.
Generally speaking, I applaud anyone who is acting in good conscience on behalf of the Bahamian people, just as Sir Lynden Pindling defied the status quo and threw the mace out of the window of the House of Assembly all those years ago.
As the two-year mark approaches, one notes that there has been a disconnect between the government's promised commitment to the welfare and improvement of the lives of the Bahamian people and their performance. Much much more can be done!
LOCAL PORN INDUSTRY
There has been much said about the revelation that there is a blossoming, underground porn operation going on in the Bahamas. On the face of it, people can bemoan the development of this industry, however one realizes that it's an issue of freedom of expression between two consenting adults who are kinky enough to have sex on film and distribute it. That said, this has generated an outrage among some in Bahamian society as it is not only yet another example of the deprivation of social and moral values but our society—even with all the sweet-hearting and scheming that some Bahamians have become known for—is simply not comfortable with it.
The so-called local porn industry presents some complex issues, for example, one wonders who is funding it? Is it overtly illegal for two consenting adults to shoot a porn video and disseminate it for profit? Would a clamp down on the persons involved in this so-called industry amount to undemocratic censorship?
I think that we are really losing our moral compass as a country. However, at the same time, I am doing my utmost to balance that moralistic outlook with one that accounts for the constitutional guarantees of free expression and the law. I think that this local production of pornography should be thoroughly investigated. We must ensure that no under aged children, beasts or other form of illegal, sexual perversion has been filmed. I look forward to hearing the outcome of the police's investigation into this underground "industry."
VAT's DELAY
It came as no surprise that New Zealand VAT experts Dr Don Brash and John Shewan have recommended that the government not seek to implement Value Added Tax on July 1st. It was farfetched for the government to think that that was possible, when there has been little to no educational campaign or public consultancy, no Freedom of Information Act (the commencement of which was suggested by the experts), a need for strong consumer protection legislation and no feasible framework.
But, how is it that all of a sudden VAT will no longer be implemented when we (the people and local experts) were saying it all along? I guess that now that the proclamation has come from on high (foreigners), it is acceptable. However, when a merchant such as Rupert Roberts or the Bahamas Chamber of Commerce or Dr Duane Sands (who commissioned a study) or columnists or economists and other local lobby groups said it, it was simply ignored! I don't think that the governing party's response to local opinion/expertise was exemplary of their campaign promise of believing in Bahamians. Two New Zealanders had to parrot what we said all along—in a Kiwi accent—and then suddenly VAT was pulled from the table, at least temporarily.
I wholeheartedly support my good friend Philip Galanis' contention that casinos and all forms of gaming should be open to all Bahamians. It is the common sense approach, it is the right thing to do and anything less than that should be rejected. If the government really wants Bahamians to believe that they believe in us, they should begin to demonstrate that in tangible ways, showing that a Bahamian's opinion is just as valuable as that of a foreigner. Or, would they also need foreign consultants to tell them what persons such as Phil Galanis and countless others have said all along? If the government believes in free enterprise, remove all restrictions in gaming and allow capitalism to gain a proper foothold. Competition and freedom of choice are hallmarks of any democratic, economically sound society.
Adrian Gibson