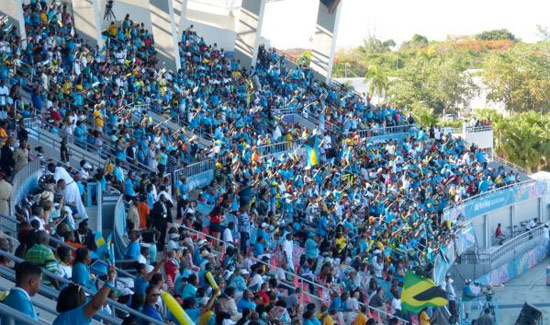 In front of a packed Thomas A. Robinson National Stadium, The Royal Bahamas Police Force (RBPF) and The Royal Bahamas Defense Force (RBDF) bands dazzled hundreds of millions of viewers around the world.
The stadium was a picture of color and vibrancy, as The Bahamas celebrated the start of the first ever International Association of Athletics Federations (IAAF) World Relays Bahamas with a bubbly Opening Ceremony today.
The bands got things underway leading a flag procession.
Prime Minister The Rt. Hon. Perry Gladstone Christie declared the event open amid thundering cheers from a packed crowd at the renovated stadium.  "This event is taking place in one of the most beautiful countries in the world and on the newest and fastest track on the planet," the Prime Minister said.
IAAF president Lamine Diack, congratulated The Bahamas on its historic accomplishment, in becoming the first host of the IAAF World Relays, while chairman of the Local Organizing Committee Keith Parker, urged all Bahamians to greet the championships with pride, underlining that the event was the largest being undertaken by the nation.
In the spectacular finale, over 100 junkanooers in true Bahamian fashion performed and rocked the stadium with cowbells and drums.
The IAAF will be offering approximately $1.4 million in prize money with the following breakdown: 1st – $50,000, 2nd – $30,000, 3rd – $20,000, 4th – $12,000, 5th – $10,000, 6th – $8,000, 7th – $6,000 and 8th – $4,000 as well as a bonus $50,000 for any world record, to be shared equally between the members of each team.
Teams will also get an opportunity to qualify for both the 4 x 100 meters (m) and 4 x 400m for the IAAF World Championships next year in Beijing, China, and during the
second World Relays in 2015, teams will get to qualify for the Olympic Games in 2016 in Rio de Janeiro, Brazil.
The IAAF World Relays has attracted teams from more than 40 nations comprising of more than 800 athletes who form the best relay quartets on the planet.
The athletes are expected to contest the 10 relay events; 4 x 100, 4 x 200, 4 x 400, 4 x 800 and 4 x 1,500 meter relays.