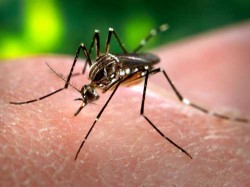 A 66-year-old man became the first person in Palm Beach County — and the fourth in Florida — to come down with chikungunya fever after contracting the mosquito-borne virus in the Caribbean, the county Health Department announced Wednesday.
The unidentified man began feeling ill on May 15, shortly after returning home from a trip through the island of Hispaniola, Health Department spokesman Timothy O'Connor said. He was treated at a county hospital the following day and is recovering at home, where he is protecting himself from mosquitoes so as not to spread the virus.
Test results confirmed the chikungunya diagnosis late Tuesday. Last week, the Florida Department of Health confirmed three other imported cases of the disease in women in Broward, -Dade and Hillsborough counties. All of them had been traveling in the Caribbean when infected.
Symptoms — which typically begin three to seven days after being bitten by an infected Aedes mosquito — include fever, headache, swelling, rash or severe joint pain, often in the hands and feet. It is not typically fatal.
Health officials are advising all South Florida residents to protect themselves from mosquitoes and clean bird baths and pet water bowls twice a week.