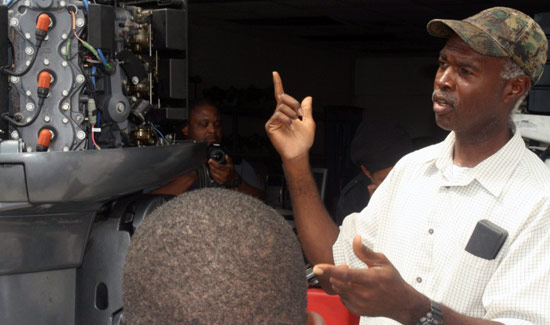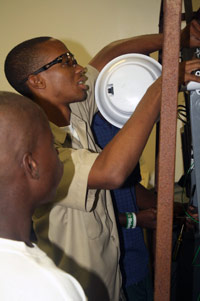 As a part of the Ministry of National Security's Shock Treatment program, a group of 22 at-risk boys were recently exposed to several disciplines while touring The Bahamas Technical and Vocational Institute (BTVI).
"To see the amount of young people in prison isn't thrilling. If we don't save them now, we'll have to manage them later," said the program's Director, Pastor Carlos Reid.
The boys, ages 11 to 17, are among the first to participate in the intervention program which will see a new installment of vulnerable young males on a monthly basis.
Shock Treatment allows them to experience first-hand the consequences of deviant behaviour. Over the course of the three-day intensive program, the young men would have visited the prison, morgue and a grave site.  However, there will be further training over the next two years. The boys will also be monitored, evaluated and if necessary, intervention performed.  Ultimately, the program provides them with positive alternatives.
"One of the objectives is to place them in a position to make positive choices. We want to expose them to different disciplines," said Pastor Reid.
Minister of National Security, the Honourable Bernard Nottage mentioned during a recent press conference that it was important to introduce the boys to some of the programs at BTVI in an effort to expose them to the benefits of acquiring a skill.
The program's initial participants are from T. A. Thompson Jr. School and C. C. Sweeting Senior High School. According to Manager of the Citizen Security Unit of the Ministry of National Security, Barbara Cartwright, school guidance counselors played a pivotal role in identifying who would be included.
"Apparently, there was a lot of fighting, stealing, parents complaining about students coming home late. Also, most of them admitted to smoking and a few of them admitted to being in gangs.  What we're trying to do is show them a glimpse into the results of making bad choices.  We feel BTVI would be able to stimulate and encourage them," said Ms. Cartwright.
Meanwhile, BTVI's Dean of Construction Trades, Alexander Darville, encouraged the boys, telling them they do not have to be a product of their environments.
"You have to think about the end results. The mere reason you are here today shows that someone cares. BTVI is an institution where you can come, get a discipline and make some money," said Mr. Darville.
BTVI's Admissions Officer, Kendra Samuels added that BTVI is prepared to offer the boys another level of education.  "Skilled labour is needed and the Shock Treatment program is trying to heighten their awareness of that.  Our doors here at BTVI are open for them if they have the passion and the thirst for knowledge," said Ms. Samuels.
The Bahamas Technical and Vocational Institute (BTVI).