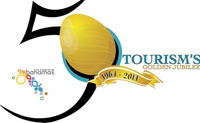 The Bahamas Consulate Office, Florida, The National Association Of The Bahamas (NAB), and key influencers within The Bahamian Community of South Florida, have teamed up to organize month long activities to celebrate the country's 41st Anniversary of Independence.
Once again, the month of activities will be highlighted by NAB's major fundraiser, the Annual Black Tie Scholarship Gala.  This year's Ball will take place at the Hilton Omni, Downtown Miami, July 19th,  and feature the music of The Royal Bahamas Police Force Band.  Ticketing information and other details on this event are available at the organizations website, http://www.nabmiami.org.
This year, the celebrations will take place from West Palm Beach in the North to Miami, Florida in the South.   The July celebrations are being heralded by a series of Junkanoo in June Fish Frys, showcasing the country's unique cultural experience of Junkanoo music performances.  The Fish Frys which take place every weekend in June at The Bahamian Connection Restaurant in Miami started the weekend of June 6th and will take place through June 27th.
The month-long celebrations will also include Ecumenical Services the first at St. Patrick's Episcopal Church, West Palm Beach, June 29th, followed by a second Ecumenical Service at the historical St. Anne's Anglican Church, in Overtown, Miami, July 13th.   A third church event, a Gospel Concert will take place at the Freewill Christian Center, Miami Gardens, Florida, July 11th.
Below is a full listing of the events.  For further information on events listed, contact Russell Carroll at (305) 576-6999.
June 6, 13, 20th & 27
Junkanoo In June
Fish Fry Experience@6pm- Until
Bahamian Connection Restaurant
4400 NW 2ND Avenue
Miami, Florida 33127
June 29, 2014 at 10:00 a.m.
Ecumenical Service