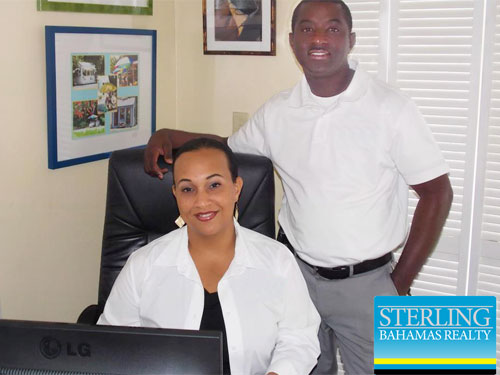 A newly opened firm has set its sights on becoming a major player in the real estate market.
Sterling Bahamas Realty Limited (SBR) is a full service boutique real estate agency with a solution based approach to delivering result oriented services; including, bank approved appraisals; residential and commercial sales and rentals; property management; vacation and yacht rentals, along with dock slip sales and rentals.
Dynamic husband-and-wife duo, Lamond and Robyn Davis, aligned with Sterling Financial Group Inc. (SFGI) to offer unique synergies resulting in a seamless blend of real estate services, particularly for international buyers.
"After being in the real estate industry for several years, we recognized the need for  excellence in  customer representation in the Bahamas real estate market," said Lamond Davis, the one time offshore banker, now real estate sales agent and president.
With SFGI as a consultant, SBR is able to function as a one stop shop for Bahamians and international investors alike.
"We are able to refer our clients to SFGI for key services such as mortgage lending, project management and development, corporate representation and even investment management services," said Mr.  Davis.
Robyn Davis, the firm's vice president, brings a wealth of knowledge and experience to the team. Her career in financial services spans 15 years.
Mrs Davis started her journey in commercial banking at RBC Finco, before moving on to conveyance law at the law firms Graham Thompson & Co, then Lennox Paton. In addition to her education in financial service compliance, she also has a background in corporation and trust management from her time spent at the leading financial services firm J.P. Morgan.
"Buying a home is one of the most important investments a family will make," said Mrs Davis. "We understand that, which is why we have put together a structure to make the process as simple and informative as possible, allowing our clients to make an informed decision."
Since opening for business in February 2014, SBR has already delivered for its clients, securing sales for two Grand Bahama luxury homes, one of which is a unique boathouse  with a  million  dollar  town home on the canal.
SBR also has sales pending on a vacant lot in the exclusive Ocean Club Estates and two luxurious  beach house villas located on the western end of Paradise Island.
"Our formula for success is a sound structure of unmatchable services, modern research tools and technology coupled with warm, receptive agents who are eager to listen," said Mr Davis.