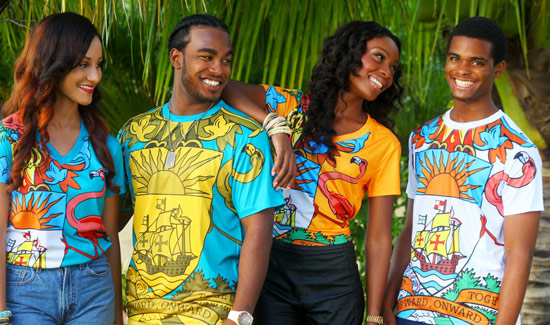 It's not your run-of-the-mill Independence t-shirts.  In fact, it doesn't even look, or feel like a t-shirt at all.  Combine the synthetic fabric of a sport's jersey with bright eye-popping colours, an enlarged Bahamian coat of arms, a signature metal and leather emblem and Bahamas 73 emblazoned on the back, and you have an authentic BAHARI shirt, a new Independence collection that has taken the country by storm.
Creative Director for BAHARI is twenty-five year old, Grand Bahama native, Morgan Fernander.  "The aim is for BAHARI to stand out beyond being just another Independence clothing line.  We wanted to create a brand that Bahamians can appreciate and value," Fernander offers.  "Aiming to please a discerning market, much time was spent deciding on every single detail on our shirts, from the fabric reams to the specific pantone colours, creating the moulds for the leather and metal emblems, the garment specification sheets, the garment tags with our logos stitched inside and even the hang tags," he explains.
This keen attention to detail is innate to the young entrepreneur whose secular profession demands precision and accuracy.  As a Brand & Marketing manager, Fernander has been trained in the field of creating and developing branding and marketing campaigns.
"In marketing and branding you literally get to see a concept developed from a thought to a tangible end-product.  Seeing that end-deliverable of a project that took months or even a year to complete is one of the most rewarding feelings ever," he says.
"When I'm wearing one of our designs and someone stops and asks, 'Hey, is that one of those BAHARI shirts?', that has to be the greatest benefit, knowing we've been given the opportunity to create and develop a product for people to appreciate and enjoy," adds Fernander.
The unique name BAHARI pays homage to the earlier settlers of these islands, the Lucayan Indians, whose linguistic term "bajari" meant a title of high regard and distinction.  As soon as he saw it just two weeks before beginning production, Fernander knew he had found the right tag.  "I loved the meaning.  I loved that it had a "baj" prefix, and the name just rolls off the tongue," he relates.
According to this young entrepreneur, the BAHARI brand is an amalgamation of life in The Bahamas, transposing its symbols and culture onto garment canvases; resulting in a stylish and unique clothing line that transcends beyond typical Bahamian urban wear. "We're promoting cultural expression through clothing. We like to call it 'style enculturation'," says Fernander.
Just in time for Independence, you too can express your national pride by purchasing your very own BAHARI shirt online at www.shopbahari.com, FLOSSIT or Cool Running in Downtown Freeport, LAVISH inside the Circle Mall in Freeport and at YNG – Rosetta Street West in Nassau.  Sizes for men and women range from small to 2XL and shirts can be purchased individually or in bulk orders.
"I think the common thread between our 41st Independence and the BAHARI collection is realization," Fernander says.  "Forty-one is the age that most people start to 'get it' and I think that can be applied to us as a nation.  We've witnessed and experienced some monumental moments and now, it's just a matter of us taking that step forward to fulfill our potential as a country.
With BAHARI, we've realized the extent to which our journey in this new field can lead us, and we're coming to an understanding of what Bahamians really want in terms of a clothing line.  It's now up to us to go beyond the point of realizing our potentialities and fulfilling them," he adds.
Crediting his mother as his inspiration, Fernander believes his creativity could have only come from her.  As BAHARI enters the fashion market, he remains optimistic about the future.  "Rather than limitations, we try to see opportunities, and look upon this as a journey, not necessarily a destination," he explains.
Grateful to so many who've mentored and supported him along the way, Fernander is encouraged by other trend-setters who too are striving to make a mark in the business world. "There is a quiet, but strong transition happening in our country now, where young people are transcending beyond what's being indoctrinated in us as to what we can do and how far we can go.  As long as there aren't any limitations on our creativity, there won't be any limitations on the BAHARI brand."
Maven Group
Caption: BAHARI Independence Line: Just in time for the 41st celebration of our country's Independence, a new clothing line is available on store racks in Freeport and Nassau.  Vibrant designs and meticulous construction detailing establish the unisexual BAHARI line as one of many exciting new apparel for the season.