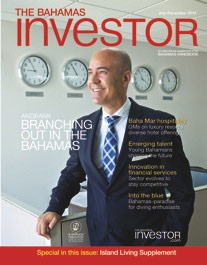 The leading publication for the financial services sector released its latest edition this week.
The newest issue of The Bahamas Investor (TBI) magazine is crammed with insightful features, investor information and financial services sector news.
The eight-year-old magazine is one of six high-end publication put out by Etienne Dupuch Jr Publications Ltd.
The cover feature takes a look at the rise of boutique private bank Andbank.
Seeking out opportunities in South and Central America, the Andorra-based bank is expanding its presence in The Bahamas, opening a new office in downtown Nassau and tripling the number of employees in the jurisdiction from five to 15.
"It comes as no surprise that we are currently the fastest growing bank in The Bahamas," says Juan Iglesias, chief executive officer at the Bahamas branch. "The jurisdiction has the most developed financial services offering in the Caribbean region; a unique offering in today's fast changing and volatile world. Direct flights to Europe, the US and Latin America and a low tax regime, make it very attractive for investors. In five years from now, we want to be the first choice for private banking in The Bahamas."
While the rapid evolution of financial services continues, the tourism sector is also experiencing a radical paradigm shift as the largest single-phase resort development in the region takes shape on Cable Beach.
Due to open in December this year, the Baha Mar megaresort is a project of unparalleled size and vision. In this issue, The Bahamas Investor focuses on the unique array of luxury hotels encompassed by the $3.5 billion complex.
In exclusive interviews, the general managers of the Baha Mar Casino & Hotel, Rosewood Hotels & Resorts, Grand Hyatt and Melia Hotels International offer insider views of the strength of these global brands and how they will complement the Baha Mar resort offering.
Another story in this issue include an article on the talented, up-and-coming Bahamians that are proving themselves in a range of different industries from the legal sector to hospitality.
Also of note, TBI examines how the sports industry is shaping the future of tourism in The Bahamas, as the government looks to strengthen partnerships with such established brands as Miami Heat and Ladies Professional Golf Association (LPGA).
A free, biannual publication, a new TBI is released every January and July. Its sister publications include the Bahamas Handbook, Welcome Bahamas, What-to-do, Bahamas Trailblazer Maps and the Dining & Entertainment Guide.