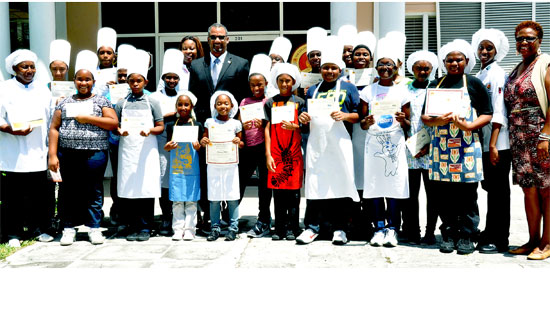 Nineteen young people who participated in the Summer Fun in The Kitchen, 2014 Lil' Chefs' Shack Programme sponsored by The College of The Bahamas' Culinary Hospitality Management Institute (CHMI) received a surprise visit from Jerome Fitzgerald, Minister of Education, Science and Technology on the final day of the programme.
The Minister took the time to speak with the children and sample various pastries, appetizers and tropical drinks made by the aspiring chefs. The youngsters spent a week learning culinary essentials such as safety and sanitation and knife skills from facilitators Ms. Sharon Ferguson and Ms. Rachelle Strachan.
The participants also learned to make popular dishes such as pizzas, fun finger foods, cookies, pastas, chicken souse, peas 'n rice and fruit salads. They received certificates at the end of the programme. Harmony Pyfrom was chosen as the Most Outstanding Female and Jovan Bailey was selected as the Most Outstanding Male participant.
Ministry of Education, Science and Technology
Captions:
Top: The Culinary & Hospitality Management Institute (CHMI) of The College of The Bahamas hosted its 2014 Lil' Chefs' Shack for two weeks this summer. The youngsters spent a week learning culinary essentials such as safety and sanitation and knife skills. They received certificates at the end of the programme. The participants are pictured above with Ms. Sharon Ferguson, Senior Education Officer, Family and Consumer Science, Ministry of Education, Science and Technology and Facilitator (first row first from left); Dr. Sophia Rolle, Interim Executive Director, CHMI (left of Minister); Jerome Fitzgerald, Minister of Education, Science and Technology; Ms. Rachelle Strachan, Facilitator (second from right) and Ms. Bridget Murray, Director of Training, CHMI (first from right). (Photo by Aletha Cooper)
Participants in the 2014 Lil' Chefs Shack programme demonstrated their skill at preparing appetizers. (Photo by Aletha Cooper)