Scores of students queued up for a recent campus-wide HIV/AIDS testing at The Bahamas Technical and Vocational Institute (BTVI), all in an effort to know their status and strengthen awareness of the deadly disease.
Highlighted during the day was the 1+1+1=0 campaign which means, one uninfected partner plus one condom plus another uninfected partner equals no HIV infection.  Some staff and faculty members also participated.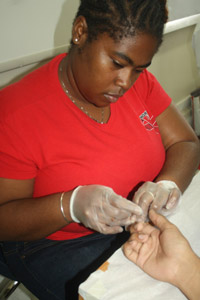 According to a Ministry of Health HIV data statement, The Bahamas has experienced success in reducing the number of new HIV infections, as the number of new cases decreased overall by 34% between 2003 and 2012.
Meanwhile, the Know Your Status campaign included how the virus is spread and preventative measures.  Recognizing there are risks involved in unprotected sex, BTVI's Student Affairs Coordinator, Raquel Bethel, said although abstinence is preferred, those who are sexually active must make responsible choices.
"The reality is young people are sexually active so we feel compelled to educate them on the dangers of unprotected sex.  They need to take the necessary precautions. There is a level of responsibility in safeguarding themselves," said Ms. Bethel.
The third annual confidential testing at BTVI required a prick of the finger and results were available within 15 to 20 minutes.  On hand to facilitate the free testing were health care workers from the HIV and AIDS Centre of the Ministry of Health, who gave pre and post-test counseling. They were joined by community outreach workers from the President Emergency Plan for AIDS Relief (PEPFAR) Unit – a United States based program.
Community outreach worker, Andi Baillou said it is a passion of his to educate people, encouraging them to take control of their lives.
"Anyone you let into your personal space, in terms of sex, you have to protect yourself and them as well.  Even the older generation needs to wake up.  HIV/AIDS is very serious," he underscored.
A 20-year-old male student said he felt the initiative was essential.  "It's important to know your status.  Plenty people are sexually active so education is important.  Once there is proper knowledge, you can prevent it from being spread.  You need to take responsibility," said the soft-spoken young man.
Another student, who is married, chimed in, stating that even some married couples are at risk.  "Not every partner is honest. We have to take this free opportunity because some people are scared to go to the clinics.  I have been faithful for the three years I've said, 'I do,' but it's good to know your status," she stated.
The Bahamas Technical and Vocational Institute (BTVI)
Captions: top – GET TESTED – BTVI student, Gabriel Miller participated in the Know Your Status campaign.
Side – KNOW YOUR STATUS – Scores of BTVI students, faculty and staff recently got to know their HIV/AIDS status.  Pictured here testing a student is Registered Nurse, Branishka Lewis.