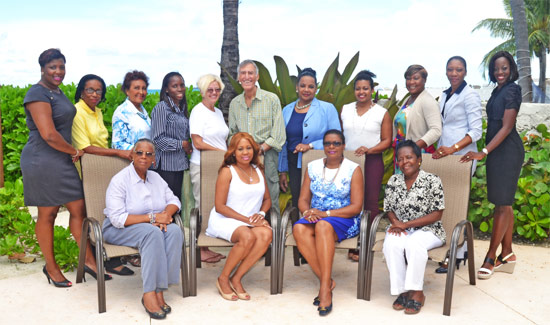 The Heart Ball Committee is back at it again. Despite current economic challenges and imposing changes to the economy, The Heart Ball Committee recently met to plan their upcoming events. This group of dedicated volunteers give their time and efforts to raise funds to help repair the hearts of children.  When Committee members Zelia Bethell (recent honouree) and Linda Lafleur (treasurer) were asked, why they do what they do, they replied as follows:
Mrs. Lafleur, " I do it because it's a charity I have become passionate about; it's something I enjoy doing. I do it to assist the children. The reality is, this is the only avenue most children diagnosed with heart disease have to obtain heart repair".
Mrs. Bethell indicated, "I was taught, all of my life that you should give back; as it is better to give than to receive. This was my parents' motto. Additionally, being a nurse, I have a passion for people's health. This cause is particularly dear to my heart because it is helping the future generations; we may be helping a future prime minister".
The Heart Ball Committee is the fund raising arm of The Sir Victor Sassoon (Bahamas) Heart Foundation. It is a non-profit entity established in 1961 that helps to repair the hearts of children. The Heart Foundation works along with the Bahamas Heart Association to educate the public, about heart care, in hopes of preventing heart disease in adults and children.
Heart care is not cheap. One surgery can cost over $100,000 dollars. As such, the Heart Ball Committee works feverishly to raise funds to save lives. They host two major fund raisers yearly – the Annual Tea Party & Fashion Show and the Annual Heart Ball. The Tea Party and Fashion Show is scheduled to be held at Mt. Fitzwilliam, Government House, on Sunday, November 23rd, 2014. The Annual Heart Ball is scheduled to be held on Saturday, February 14th, 2015 at Melia Nassau Beach. These events are open to the public a minimal donation.
When asked what guest can expect from these events, PR Officer Ingrid Sears stated, "Guests can look forward to an enhanced product offering. In terms of the Tea Party and Fashion Show, guests can expect a fun, enjoyable and entertaining time.  The theme for this year's Tea Party is a Victorian High Tea. Hats and gloves are encouraged. Of significance this year, Twinings has agreed to be the major tea provider to give us a truly Victorian High Tea feeling. Additionally, there will be many vendors displaying their products.
In reference to The Ball, The Ball Committee seeks to enhance it. Because much effort was placed into hosting the 50th Annual Heart Ball, the goal for the 51st Ball is to do no less. As such, the Heart Ball Committee will build on what was done and offer guests something to write home about; more will be revealed in time".
Ms. Sears went on to say, "Despite all the glitz and glam, we want people to remember, it is about the children. We would like to encourage Corporate Bahamas and the general public to please lend us your support. Your support can mean the difference between life and death of a child. It can also help to relieve the stress parents and guardians face, when their child is in dire need of heart care, but cannot afford it at this time".
The public can assist The Heart Foundation via:  donations (time, money, gifts), sponsorship, sponsoring events, booklet advertisements, purchase of tickets for the events hosted by The Heart Ball Committee, media support and much more. To find out how you can help, please call 327-0806 or visit sasssooheartfoundation.org.
Caption: Heart Ball Committee members present
Back: L-R: Keniqua Whitehouse, Linda Lafleur, Claire Howorth, Ingrid Sears, Sue Riding, Michelangiolio Baccelli, Marilyn Cambridge, Erin Bethell, Alice Similien, Lottie Palumbo, Olivia Porteous  
Front: L-R: Rosemarie Thompson, Coretta Owen (co-chair), Portia Nottage (Co-chair), Maria Symonette