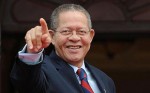 Pressure mounted on Prime Minister Bruce Golding yesterday as an umbrella group representing a wide cross-section of Church leaders requested a meeting with him to discuss Sunday's bombshell email revelations in the Manatt, Phelps & Phillips affair.
Convenor of the group, the Reverend Lenworth Anglin, said there was no word from the Office of the Prime Minister up to late afternoon, but made it clear that "we asked for a meeting today (yesterday) or tomorrow (today) the latest".
"The greatest area of concern for the Church is the matter of integrity and trust. Has the prime minister declared all that he knew …?" Anglin asked.