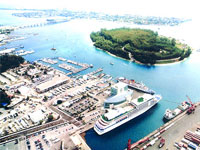 RIVIERA BEACH — The Port of Palm Beach broke its one-day record for ship tonnage. With nine ships totaling 95,526 tons in the port on Monday the single-day record previously set in 2003 was broken.
While traffic has been gradually rising  since last year at the port there has been " nothing dramatic" before and this spike appears to be more of an anomaly than to reflect major growth.
Among the ships adding to the record breaking tonnage were four container ships from Tropical Shipping, the Bahamas Celebration cruise ship and the Albany Sound, unloading sugar from Mexico. Exports to the Bahamas and other Caribbean countries are an important part of the port's business.
Carl Baker, the port's operations director, said, "Everything lined up. We got all of the big ships in one day."
"Until the Caribbean turns around, we're not going to turn around," Baker said.