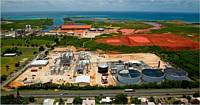 Rum and politics have made a fiery mix since America's earliest days, when a young politician named George Washington won election to the House of Burgesses in colonial Virginia with the help of spiked punch at the polls.
There have been rum wars involving pirates and slave traders, and rumrunners who made a mockery of Prohibition.
Now the spirit once called Kill-Devil has set off a bitter dispute between two United States islands, Puerto Rico and the Virgin Islands, over a tax that the federal treasury collects on rum.