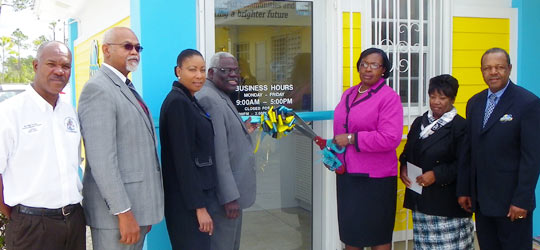 Member of Parliament for High Rock Kenneth Russell unlocked the doors to BTC's newly renovated High Rock retail store in Grand Bahama following a $40,000 transformation during the official opening ceremony held today. The store has been updated from a basic payment center into a vibrant, interactive retail experience. The overhaul of the 160-square feet store employed six local construction workers during a two-week period and has one full-time retail specialist to keep the High Rock and East Grand Bahama communities connected.
"I remember when BaTelCo initially opened in High Rock with one public telephone out front," said Russell. "The opening today is a leap forward, bringing the people of East Grand Bahama into the 20th century and connecting them not only with each other but with the world via internet and other features offered at the newly developed retail location."
The multi-service retail experience now offers internet and land-line packages and BTC's latest cellular products and services. In keeping with BTC's commitment to Bahamian culture, the store's design incorporates themes and colour schemes that reflect Bahamian identity.
"The new concept fits the BTC vision of offering better choices for its customers. Now, people of East Grand Bahama can do much more than pay a bill and can access all the latest telecommunications technology in their own community," said Marlon Johnson, Vice President Brand and Communication BTC.
BTC celebrated the opening of the new Pioneers Way retail experience this past Saturday, February 11, by inviting the public to a full day of festivities including live dance performances, a concert featuring local artists and Junkanoo. The opening of the High Rock store marks the third of some 50 openings planned throughout the country in the coming year. The next scheduled openings are slated for March in Exuma and Abaco.