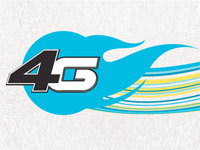 BTC is scheduled to officially activate 4G services in Bimini and The Berry Islands May 9, unleashing faster speeds on all wireless devices and making it possible for customers to tap into better services and more entertainment on their mobile devices.
According to Jerome Sawyer, Senior Manager for Public Relations, bringing 4G to the northern islands will boost business and visitor satisfaction as well as aiding education.
"Travelers won't have to worry about sluggish download speeds, long buffering periods when streaming audio or being chained to a Wi-Fi network when video chatting during their beach vacation or fishing trip," said Sawyer.
"Upgrading our network with the most advanced technology ensures our local and visiting customers have access to the best products and services available."
Putting Bimini and The Berry Islands on par with the state-of-the-art telecommunications networks in the world, BTC's 4G rollout is a result of what Sawyer called "extraordinary teamwork on the part of dozens of dedicated people relentlessly working to condense a three-year plan into a one-year reality."
The expanded 4G footprint is on the heels of network launches in Grand Bahama and New Providence earlier in the year with an ultimate goal of blanketing the entire country with lightning-fast wireless coverage by the end of the year.
Abaco and Exuma are slated to be next in the launch sequence with some sections of Exuma already live and others, currently in the testing stage, scheduled to be on stream by the end of summer.
BTC executives are traveling to the Berry Islands and Bimini for the launch events. Late last month, they traveled to Exuma for a major retail store opening. On April 29, they were in Cat Island to launch upgraded high-speed landline and internet service, part of the company's march across the nation with vastly upgraded products and services in broadband, data, landline and mobile.
"This is not your grandmother's phone company," said Sawyer.
"And one of the best parts about the transformation is taking it to small islands where people are thrilled to be getting service that is not even available in many parts of the United States."