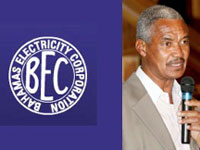 "We have a social responsibility to the people of The Bahamas and we must continue to give back in tangible ways to the community," said Leslie Miller (PLP), MP & BEC Chairman (from The Tribune, Saturday, March 23, 2013).
Since when is a public company that is reported to be on the verge of bankruptcy able to "donate" money as if it's manna from heaven?
And when did paying for a sporting event become a "social responsibility"? Or is there is a new definition of this over used phrase?
This… recent article by Dr. Alejandro Chafuen might help with defining social repsonsibility.
As politicians try to find a way to make bad public policy relevant, they continue to pollute words and definitions. Professor Walter Block has written widely on this subject here…
This all goes to show the National Stadium, donated by the Chinese is a major boondoggle. If the Chinese would pay the ongoing expenses, maybe that would make the stadium worthwhile. Providing the stadium and the leaving the attendant costs of maintaining it, is a huge burden for the Bahamian taxpayer.
Suggesting BEC has a social responsibility to provide electricity at taxpayer expense for a sporting event is little more than melodrama.
By Weblog Bahamas