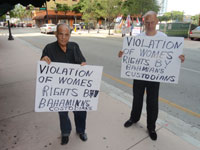 The Ministry of Foreign Affairs and Immigration confirms that a peaceful, but noisy demonstration occurred today in Miami outside the Ingraham Building, home of the Bahamas Consulate.
Using loud speakers and placards, eight demonstrators demanded better treatment for four female Cuban Nationals detained at the Carmichael Road Detention Center. The protest lasted two hours, from 11am to around 1pm in the afternoon. There were no physical attacks on the building housing the Bahamas Consulate or on its staff; all are reported safe.
Three of the Cuban Nationals were turned over to Bahamian authorities after being intercepted by the United States Coast Guard in October 2012 and the fourth female was arrested and detained for over staying her allotted time in The Bahamas.
None of the four Cuban detainees qualify for refugee status under international law, therefore in these circumstances the normal course of action is repatriation to their home country.
By: Bahamas Information Services