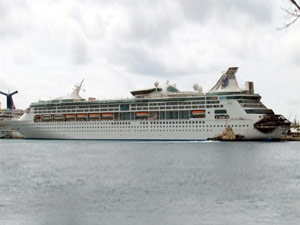 For the second time this year, a fire at sea has aborted a cruise ship's voyage. This time, aboard Royal Caribbean's Grandeur of the Seas and the ship's 2,200 passengers were expected back in Baltimore on Tuesday after being flown on charter flights from the Bahamas.
The fire that began at 2:50 a.m. Monday was extinguished about two hours later with no injuries reported. A cause wasn't immediately known but the U.S. Coast Guard and the National Transportation Safety Board planned to investigate.
The ship, which left Baltimore on Friday for a seven-night cruise, was headed originally to CocoCay, Bahamas. Royal Caribbean said the ship never lost power and was able to sail into port in Freeport, Bahamas, Monday afternoon. The ship launched in 1996 and was refurbished last year.
Royal Caribbean said on its website and through social media that executives met with passengers in port and that the cruise line was arranging flights for all 2,224 guests. Also, passengers will get a full refund of their fare and a certificate for a future cruise.
Aboard ship, the captain announced that passengers needed to go to their muster stations, said passenger Mark J. Ormesher in an email to The Associated Press. Immediately after, his room attendant knocked on the door and told him and his girlfriend to grab their flotation devices. The attendant said it wasn't a drill.
Ormesher, a native of England, who lives in Manassas, Va., said he and his girlfriend smelled acrid smoke as they went to their muster station, the ship's casino. The crew quickly provided instruction.
"This encouraged calm amongst the passengers," he said. Passengers were required to remain at their stations for four hours, he said, and the captain "provided us as much information as we needed to stay safe."
Caption: The fire-damaged rear of Royal Caribbean's Grandeur of the Seas cruise ship is seen while docked in Freeport, Grand Bahama island, Monday, May 27, 2013. Royal Caribbean said the fire occurred early Monday while on route from Baltimore to the Bahamas on the mooring area of deck 3 and was quickly extinguished. All 2,224 guests and 796 crew were safe and accounted for. (AP Photo/The Freeport News, Jenneva Russell)