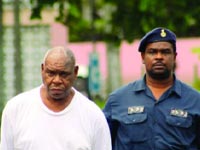 Prosecutors admitted that Thomas Rigby, the man accused of causing more than $1.2 million in damage to the Airport Gateway, was charged and convicted under the wrong section of the Penal Code.
Rigby, 53, was denied bail in the public's interest when he was arraigned before Magistrate Derence Rolle-Davis on July 19.
The road worker admitted the charge on August 8, saying that he dug up 1.7 miles of the highway because he was upset that his bosses did not pay him.
Rolle-Davis forwarded the case to the Supreme Court for sentencing because he thought Rigby deserved a penalty that exceeded his sentencing power of five years.
Before the sentencing hearing proceeded before Senior Justice Jon Isaacs, prosecutor Anthony Delaney said that Rigby should have been charged under section 338 of the Penal Code, which calls for a maximum penalty of two years.
Section 328 of the Penal Code, under which Rigby was erroneously charged, calls for a maximum penalty of 10 years.
Delaney asked the court to correct the mistake by amending the charge before he proceeded to sentencing. Rigby, who did not have a lawyer, did not oppose the amendment.