New Company Signs $400,000 Contract with Resorts World Bimini
December 6, 2013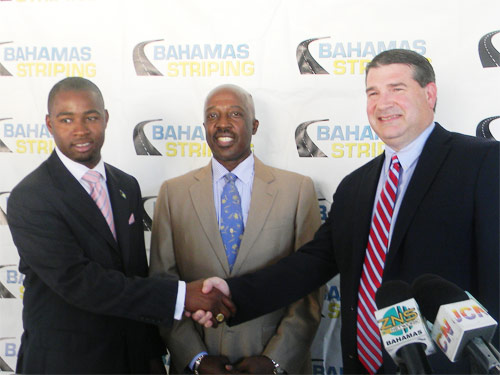 After a few short months since its launch, Airport Maintenance Services Ltd has signed its first contract with Resorts World Bimini, and The Genting Group to upgrade the Southern Bimini airport.
These upgrades will bring Bimini's southern airport to international standards in order to commence and accommodate night flights and ultimately improving the island's tourism industry as well as providing employment for Bahamians.
Managing Director of Airport Maintenance Services, Mr. Allen Albury indicated, "Today ushers in a new day for scores of young Bahamians. Airport Maintenance Services is about opening up new opportunities and possibilities for young Bahamians. Times have changed and the nature of business must be about new innovative and creative strategies for job creation. "
"In just a few short weeks we will begin to send twenty young Bahamians to train alongside with our partner Hi-Lite Global, at airports around the world. It speaks about new industry sectors that were necessarily unavailable for Bahamians.  AMSL is about training and development." he said.
Mr. Albury thanked The Genting Group, and Resorts World Bimini for providing this opportunity to AMSL and he assured that the job will be completed on time and on budget.
After the upgrades, the Southern Bimini aerodrome will be amongst the first of newly upgraded family island airports in The Bahamas that will meet FAA and ICAO regulatory standards and compliance. Additionally, it will be the third airport in The Bahamas which will be able to accommodate night flights.
President of AMSL, Mr. Atario Mitchell, said, "The contract symbolically builds along the premise of empowerment and advancing our economy and building our country. We want to empower newer generations to think outside the box, and we must build strategic partnerships, and believe in potential for growth and expansion and job creation."
He added, "The striping industry is a multimillion dollar industry and we must seek a new course to put Bahamians back to work we must be about helping young men build their future and providing opportunities.  We must be about building a safer future for those that fly into our airports."
Resorts World Bimini believes in the rich future and heritage of Bimini and the Government of The Bahamas believes that this multi -billion foreign investment will create an attractive and mixed resort that will also incorporate the Bimini flavor.
Mr. Dana Leibovitz, President of Resorts World  said, "We are happy to sign the contract with Airport Maintenance Services and  we are pleased that they understand the importance of hiring Biminites that can sustain the airport, and we share  the same commitment. Resorts World will provide Bimini a Bahamian style hotel which will offer more than 350 rooms and 25 villa suites.  The hotel will provide 100 construction jobs for Bahamians and additional 350 permanent jobs for Bahamians and associates. After the expansion, the total employee count will be a total of 800 persons."
Mr. Leibovitz also shared that he is Impressed with commitment of AMSL and he is pleased to be a part of the project and looking forward to building a partnership, and  what the company has done in four years is commendable.
Minister of Labor and National Insurance, The Hon. Shane Gibson mentioned that, "This signing is a momentous occasion for this young Bahamian company, and the Government is pleased that they are hiring young Biminites to carry out the initial striping of the Southern Bimini airport."
Minister Gibson believes that the upgrades will increase the tourist arrivals by aircraft and he implored Bahamians to take advantage of this new opportunity provided by Resorts World Bimini, as it presents another avenue of employment.
The Calabash Group
Caption: It's official. Airport Maintenance Services and Resorts World Bimini have officially signed a $400,000.00 contract to upgrade the Southern Bimini airport. Pictured from left to right: President of Airport Maintenance Services, Mr. Atario Mitchell, Minster of Labour and National Insurance, The Hon. Shane Gibson, and President of Resorts World Mr. Dana Leibovitz.