BahamasB2B has been creating and providing e-Commerce solutions to small businesses for 20 years. These services, backed by the BahamasB2B.com brand name, use our proven technological expertise and industry knowledge, allowing you to focus on achieving your own e-business goals.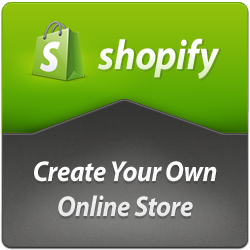 If you're looking for a way to create an online store front, We recommend Shopify as an excellent eCommerce solution.  Shopify is a great place to start your online shop. You will appreciate the sleek, clean design, super-friendly user interface and outstanding customer support.
Shopify has features that are easy for eCommerce beginners, but they still allow advanced users to completely customize their  stores.  Without any knowledge of web design or HTML, you can create your storefront, enter your product and organize them into categories. It is easy to add photographs and descriptions, change background colors, upload logos and much more. You can personalize your site as much as you like. Plus, there are dozens of sleek, professional looking templates, many for free and all of which can be customized.
But eCommerce isn't just about setting up an online store. It is about selling product. With Shopify you can easily manage your products and your customers.
The Customers tab organizes information about your clients so you can execute effective marketing campaigns. You can have Shopify filter your client list to create a list of your biggest spenders, customers who have shopped recently or by other criteria. Shopify eCommerce allows you to import or export your customer database, so it can integrate with your other operations.
The Products tab helps you keep tabs on inventory. You can import and export long lists of products and keep track of stock.
There is a Blogs & Pages tab, a Navigation tab and a Marketing tab to help you draw customers into your store and keep track of coupons.
Shopify eCommerce software integrates seamlessly with Google Analytics to help you get detailed information about your store. Find out which keywords and campaigns are working best, so you can fine-tune your marketing efforts.
Shopify provides businesses with an easy to use eCommerce solution that takes the hassle out of setting up and managing an online storefront. The scalable, flexible, full-featured platform enables any size business to efficiently launch and operate an online retail store with ease.
But don't take our word for it.  Try Shopify FREE for 30 days. If you need any help at all contact the freindly eCommerce experts here at BahamasB2B.com, we'll walk you through the process. We can even set up the store for you and manage it if you don't have the time.

Your Own Storefront
Shopify gives you your own storefront to sell your products on. You can pick from over 100 free and premium themes from the Theme Store or, if you know HTML & CSS you can design one from scratch.
With Shopify Themes you can upload your own logo, change the colors, modify the fonts and more.
Manage your store
You can manage and edit your store's content by logging into your Shopify admin. You can easily edit your store's content, add new products, and accept payment from customers.
Shopify will also host your site on their blazing fast servers and set up SSL to provide your customers with a secure shopping environment. You don't have to worry about the technical stuff.
Accept payments
Shopify takes all the hassle out of receiving payments online. They integrate with over 50 gateways including Paypal, so any store can accept major credit cards.
They also support selling digital products through the Shopify App Fetch.
You can also use drop shipping or fulfillment services with Shopify, including Amazon Services, Shipwire, and Webgistix.
You've got nothing to lose and everything to gain. Don't wait to get your store online.  Take a 30-day free test ride now.
If you have questions or need additional information, please don't hesitate to contact us.