Off the coast of Eleuthera, Harbour Island offers excellent hotels and food, picket fences, and pastel-colored houses that evoke Cape Cod. The beaches on Harbour Island are famed for their pink sand, tinted that color by crushed coral and shells. Another offshore island near Eleuthera, Spanish Wells has extremely limited accommodations, and the residents – descendants of long-ago Loyalists – aren't very welcoming to visitors.
The Bahamas can be reached quickly by air or by sea. Easy access to The Islands Of The Bahamas makes this tropical playground a popular year-round vacation destination. Its proximity to Florida means just a short hop by jet, a pleasant day by cruise ship, or a memorable voyage by private or charter boat. Explore your options for travel to the Bahamas.
Getting between The Islands of The Bahamas.
Charter Air – For information on air charters and charter air services visit the Bahamas Web Directory Bahamas Air Travel page.
Mailboat – Inter-island mailboats depart from Nassau and run weekly roundtrip to/from all islands. The mailboats are a leisurely way to get around. One-way passage to just about anywhere costs around $35, ranging up to $140 for some round trips. Remember, these mailboats run on Bahamas time, so they're a great way to slow down to the steady rhythm of the islands. For a list of all Bahamas Mailboats with island destinations visit the Bahamas Mailboats page on Bahamas-Travel.info.
Private Boat – You can always charter a private boat to get you where you want to go, on your own time. You will find boat charter companies in the Bahamas Web Directory Bahamas Boats & Boating page.
On Harbour Island you will find restaurants ranging from inexpensive local spots and sandwhich shops to a few that are rated among the finest in the Bahamas. The emphasis is on seafood, of course, but many restaurants also serve chicken and steaks.
Dunmore Beach Club – Harbour Island, Bahamas
From famous homemade Bahamian bread in the morning to world-renowned four course gourmet dinners in the evening, Dunmore Beach Club offers a fine dining experience. Nightly cocktail hour in the clubhouse. Dress is casual, except a jacket is required for gentlemen at dinner during winter season. A tie is optional but a collared shirt is required. Tel: 242-333-2200
Ludos at Romora Bay Club – Harbour Island
International cuisine in colorful tropical surroundings. Tel: 242-333-2325
Pink Sands – Harbour Island
"Caribbean fusion" cuisine in a chic, terraced garden setting.
Poseidon at the Coral Sands – Harbour Islands
Newly revamped menus featuring delightful cuisine in a friendly, comfortable setting.
Runaway Hill Club – Harbour Island
Enjoy breakfast and lunch on a seaside verandah with stunning views of the beach and ocean. Gourmet dinners are served on the verandah or in the casually elegant dining room. A menu for the evening´s dinner is posted each day. In addition to the set meal, guests may always opt for fish, chicken, steak or local lobster (in season.) Tel: 242-333-2150
The Landing – Dunmore Town, Harbour Island
Have breakfast or dinner overlooking the the harbour in trendy Harbour Island. Restaurants in the Bahamas islands usually feature a bit of everything, but few bring it together like this romantic inn. Tel: 242-333-2707 or 242-333-2740
For more casual fare, try Arthur's Bakery for doughnuts, croissants and cookies, lobster sandwiches, grilled Cuban sandwiches or jerk chicken Caesar.
Or you might consider a number of other local establishments, including Sip Sip (conch chili and carrot cake), the Blue Bar, Harbour Island Marina, Avery's, Angela's Starfish Restaurant or the Queen Conch, where you can get conch salad made fresh right in front of you. Each has their special fare and local atmosphere galore.
Ma Ruby's Restaurant – Harbour Island
Next to the Harbour Island Library, Ma Ruby's is the place to go for home-style Bahamian cooking at its finest. The Cheesburger from Paradise has received rave reviews.
Harbour Island is a prime choice for a weekend getaway or an extended stay. Several airlines offer daily service to Eleuthera. Take either a one-hour flight from the East Coast of Florida or a twenty-five minute fight from Nassau or Grand Bahama where there is good connecting service from all destinations around the world.
Bahama House Inn – The beautiful Bahama House Inn, bed and breakfast, is located in Dunmore Town, Harbour Island, Bahamas. One of the loveliest Inns on the island.
Pink Sands, Harbour Island – The new Pink Sands weds the traditions of the past with the most modern amenities and services. Situated on 20acres overlooking the most beautiful stretch of pink sand beach in The Bahamas, Pink Sands has become a celebrity hideaway hosting such names as Keith Richards, Julia Roberts, Susan Sarandon, Tim Robbins and Robin Williams.
Romora Bay Club – 22 rooms and junior suites, boutique resort located on the bay side of trendy Harbour Island, 2 hour boat ride from Nassau. Special week-end rates.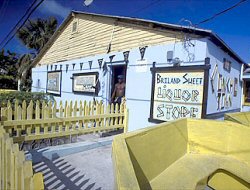 While enjoying your Bahamas vacation there are hundreds of activities on land and sea to choose from; sailing, windsurfing, parasailing, fishing, snorkeling and scuba diving, golf, photo tours, biking and hiking.
Harbour Island has everything you expect from a tropical destination. Spectacular beaches, a variety of activities, perfect year-round weather, a casual laid back atmosphere and warm Bahamian hospitality.
Visit historic sites, go kayaking in crystal-clear water, partake in underwater exploration and diving, try snorkeling or just lay back and enjoy island life.
Harbour Island Resources
Bahamas B2B's Vacation and Travel Guide is intended to be an accurate, up-to-date, island-by-island guide to Bahamas vacation and travel resources of interest for both Bahamian residents and travelers.
Harbour Island Bahamas is a prime choice for a weekend getaway or an extended stay. Several airlines offer service to Harbour Island. Take either a short flight from the East Coast of Florida or a quick hop from Nassau or Grand Bahama where there is good connecting service from all destinations around the world.