Nassau, the Bahamas' capital, is located on New Providence island, the centerpiece of this island vacation nation since the shipwrecking days of the pirate Blackbeard. Nassau is the busy hub of international commerce and finance, seat of government, most cosmopolitan city in the Bahama islands and a vibrant center for tourism as well as world-class entertainment.
Prized for its safe harbour, Nassau Bahamas made history which has been preserved nicely in Victorian mansions displaying elegant noble architecture cathedrals, weather-beaten 18th-century forts and a hand-carved Queen's Staircase whose 66 steps lead to a view of Nassau not to be missed.
Vacationers know Nassau as a vacation playground of fine white-sand beaches and exciting nightlife.
Internatonal business persons know Nassau as a financial center and a starting point for global business.
Native Bahamians know the city as a friendly little town where you pretty much know everyone and where the winner of the spelling bee still makes the front page of the local papers.
For additional information on vactioning in Nassau, New Providence or Paradise Island, visit the Nassau Bahamas Vacation Guide
The Bahamas can be reached quickly by air or by sea. Easy access to The Islands Of The Bahamas makes this tropical playground a popular year-round vacation destination. Its proximity to Florida means just a short hop by jet, a pleasant day by cruise ship, or a memorable voyage by private or charter boat. Explore your options for travel to the Bahamas.
Getting between The Islands of The Bahamas.
Charter Air – For information on air charters and charter air services visit the Bahamas Web Directory Bahamas Air Travel page.
Mailboat – Inter-island mailboats depart from Nassau and run weekly roundtrip to/from all islands. The mailboats are a leisurely way to get around. One-way passage to just about anywhere costs around $35, ranging up to $140 for some round trips. Remember, these mailboats run on Bahamas time, so they're a great way to slow down to the steady rhythm of the islands. For a list of all Bahamas Mailboats with island destinations visit the Bahamas Mailboats page on Bahamas-Travel.info.
Private Boat – You can always charter a private boat to get you where you want to go, on your own time. You will find boat charter companies in the Bahamas Web Directory Bahamas Boats & Boating page.
New Providence Restaurants
Nassau / New Providence, Bahamas offers the widest variety of restaurants and dining facilities in the Bahamas. Someplace to satisfy all pockets and palettes. Cuisine from around the globe can be found here with an emphasis on seafood and authentic Bahamian cuisine. We offer our comments from the establishments we have visited and from visitors recommendations.
Graycliff – Historic Graycliff, a mansion built in 1742 by a famous pirate later to become a prison, is now a five star restaurant that boasts a cellar holding over 200,000 bottles of vintage wine.
Green Shutters Restaurant and Pub – Authentic British Pub and full service Bahamian restaurant serving delicious British Fare, Bahamian seafood and eight draught beers on tap.open 11:30am-12:00 Midnight Monday to Saturday.
Pirates of Nassau – An interactive Pirate Attraction in the heart of downtown Nassau. Board the ship "Revenge" and come face to face with Blackbeard and his fellow rogue pirates. Our Pirate Pub & Grill and open air courtyard bar is the perfect setting for some delicious grub and a cold beer. Looking for that special gift – step into PLUNDER! The pirate shop for unique piratical souvenirs. We carry a wide range of pirate gifts for all ages – t-shirts, replica guns, jewelry and of course kids pirate toys.
Athena's Cafe & Bar – Bay & Charlotte Street
Casual dining in the heart of downtown Nassau, right on Bay Street, featuring Greek, Bahamian cuisine. Try the lobster Tail (Greek Style), Greek Souvlaki or Fried Calamari. Tel: 322-1936
Bahama Mama Mia – Nassau
Tel: 242-363-5345 Fax: 242-363-4155
Bahamian Kitchen – Trinity Place, off Bay Street
Casual atmosphere serves American and authentic Bahamian cuisine including conch fritters, steamed grouper, fried plantain (very good) and peas & rice. Tel: 325-0702
Buena Vista – Nassau, New Providence Island
In Nassau, this fine dining establishment has been serving Continental cuisine for over fifty years. Note: Closed Sundays, does not serve lunch. Tel: 242-322-2811
Cafe Matisse – Nassau
Tel: 242-356-7012 Fax: 242-356-7014
Club Waterloo – Bay Street
Tel: 242-393-7324
Conch Fritters – Bay Street
Tel: 242-328-8778
Hammerheads Bar & Grill – Bay Street
Tel: 242-393-5625 Fax: 242-364-8631
Montagu Gardens Steak & Grill – East Bay Street
Known for excellent lobster tails and great steaks. Tel: 394-6347
Mama Lyddy's Place – Nassau,
This homey is where residents on New Providence island consider their true-to-the-core place for Bahamian food. Tel: 242-328-684
British Colonial Hilton Nassau – Beautifully restored 291 bedroom hotel including 21 suites, 3 restaurants, 3 bars, private beach and fresh water pool, fully equipped gym and spa. Also, 7500 sq. ft. of meeting space including a ballroom for 280 and a prestigious boardroom.
Compass Point Beach Club – Hailed as a "work of art" by Travel Weekly, Compass Point is a collection of octagonal huts and cottages brightly painted in kid's-crayon-box colors– lavender, teal, blue, tangerine, and pink and is adjacent to famous Love Beach. The hotel is a spot for guests to relax and is often frequented by celebrities visiting The Bahamas.
Dillet's Guest House – an elegant, authentic Bahamian home. Built in the late twenties, our bed & breakfast offers today's comfort and yesterday's charm. Dillet's now has a new resident artist and studio, a gazebo for weddings, and a recently opened "Internet Cafe" Coffeehouse.
Gum Elemi – For the perfect Bahamian vacation, experience the very personal and private side of Nassau and Paradise Island. Relax, and rediscover yourself in comfort and tranquility at this island-style retreat. Here you can enjoy the pleasures of the sea, closer contact with the friendly people of the Bahamas and its wonderful culture.
Nassau Beach Hotel – Located in the heart of Nassau, on the famous Cable Beach strip, Nassau Beach Hotel boasts some of the most spectacular views on the island from its 3,000 feet of golden beach front.
Orange Hill Beach Inn – Quiet, informal and relaxed, Orange Hill Beach Inn is just 100 yards from the beach. All 32 rooms have A/C, private baths and satellite TV. 10 have kitchen facilities; 2 are apartments. No phones in the rooms, but 24-hour access to phone service. Pool, daily maid service, laundry/facilities. Restaurant/bar serves local and international foods.
Sheraton Cable Beach Resort – The Sheraton Cable Beach Resort is situated on one of the finest beaches in the Caribbean, just a short 10-minute drive from the international airport.
SuperClubs Breezes – Breezes Bahamas is the first and only Super-Inclusive resort in The Bahamas. This beautiful resort, with 400 rooms and suites, is situated on a quiet stretch of the best beach in Nassau: the powder-white sands of Cable Beach.
Westwind Club Association Lmt. – Resort on Cable Beach, with an intimate private setting, and a nearby island which can be reached with one of our boats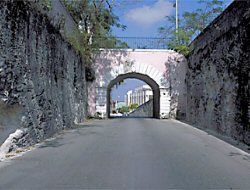 What to see and do in Nassau / New Providence, Bahamas. Sites to see, things to do and places to go.
Art & Antique Galleries
Central Bank Art Gallery
tel: 242-322-2193
web: www.centralbankbahamas.com/gallery.lasso
Chan Pratt's Art Gallery
Johnson Road
tel: 242-364-4047
Doongalik Experience
18 Village Road
P.O. Box N 1207
Nassau, New Providence
tel: 242-394-1886
fax: 242-394-0717
email: dstudios@bahamas.net.bs
web: www.doongalikstudios.com
Josephine's Treasures
Bay Street and Frederick Street North
Nassau, New Providence
tel: 242-322-1404
fax: 242-322-1404
email: exuma1@yahoo.com
The Kennedy Gallery
Parliament St
P.O. Box N 4704
Nassau, New Providence
tel: 242-325-7662
fax: 242-325-7832
email: kennedygallery@batelnet.bs
Lyford Cay Gallery
Lyford Cay Shopping Centre
P.O. Box CB 10986
Nassau, New Providence
tel: 242-362-4034
fax: 242-362-4828
Nassau Glass Company
Located 1/2 mile south of the Paradise Island Bridge, the Nassau Glass art gallery and frame shop is one of the Bahamas' largest. Featuring an enormous collection of oils and lithographs by Bahamian and foreign artists such as Eddie Minnis and his daughters, Nicole & Roseanne, Ricardo Knowles, Antonius Roberts, Brent Malone, Louis Chuck and Buster Hall, just to name a few. A wide variety of Haitian art & superb gift items are also available.
Mackey Street
P.O.Box SS 6398
Nassau, New Providence
tel: 242-393-8165
fax: 242-393-4477
email: nasglass@batelnet.bs
National Art Gallery of The Bahamas
West Hill St.
Nassau, New Providence
tel: 242-328-5800
email: nagob@netbahamas.com
web: www.nagb.org.bs
New Providence Art & Antiques
242-328-7916
Carriage Tours
Horse-drawn surreys are based at Woodes Rogers Walk. The cost is approximately $10 per person. Maximum passengers: two adults and one child, or three small adults. Horses rest between 1:00pm – 3:00pm during the summer, 1:00pm – 2:00pm during the winter.
Casinos
There are two world class casinos available to Nassau and Paradise Island visitors. Both are open 24 hours a day (gaming tables are open between 10:00am and 4:00am) seven days a week. These Bahamian casinos feature slot machines, craps, roulette, blackjack, baccarat, Caribbean stud poker, big six wheels and more.
The Atlantis Casino
On Paradise Island, the Atlantis Casino is 50,000 square feet of entertainment surrounded by panoramic views of the ocean. The casino has more than 1,000 slot machines and 78 gaming tables. The newest addition, Pegasus Race & Sportbook, features wagering on all major sporting events, including live simulcasts from US racetracks. Contact the casino at 242-363-3000.
The Crystal Palace Casino
Located on Cable Beach this casino has 750 slot machines and 75 gaming tables with 5x odds on craps and liberal table maximums.
The casino also has a state-of-the-art sports betting facility, the Racebook, with 15 TVs and stadium style seating for betting on professional or collegiate teams, with games from all over the US broadcast live, via satellite, on six big screen TVs. 242-327-6200.
Cultural Activities
Performances at the Dundas Centre for the Performing Arts include plays, musicals, concerts and ballets. Located on Mackey Street, the Box Office is open between 10:00am and 4:00pm. Check the BahamasB2B Calendar for current shows or call 242-393-3728 or 242-394-7179.
Located on Shirley Street, the National Centre for the Performing Arts hosts dance and other theatrical performances. Check the BahamasB2B Calendar for current performances or call 242-393-2884.
Eco-Adventures
Stroll around Ardastra Gardens, Zoo & Conservation Centre's 51/2 acres of beautiful tropical gardens and watch world-famous marching flamingos perform with military precision at 10:30am, 2:10pm and 4:10pm daily. There are also iguanas, snakes, monkeys, birds (including the rare Bahama parrot) and even a Vietnamese potbellied pig. Open daily 9:00am-5:00pm. Last admission 4:30pm. Adults, $12; children 4-12, $6; under 4, free.
Chippingham, West Bay St, one mile west of downtown
tel: 242-323-5806
email: info@ardastra.com
web: www.ardastra.com
Forts
Nassau's historic 18th century forts and monuments are popular attractions for visitors to New Providence. Fort Montagu, where the canons have never been fired in battle (complimentary daily tours 8:00am-4:00pm, but tipping is encouraged); Fort Charlotte, where you can see exhibits and dramatizations of routine military activities from the fort life of yesteryear (tel: 242-325-9186); and Fort Fincastle, shaped like a paddle wheel steamer, located next to the Water Tower where you can take an elevator to the top for a spectacular view of the entire island. Escorted and self-guided tours are open daily from 9:00am until 5:00pm. Call 242-356-9085 for admission fees and more information on these forts and monuments.
Museums
Centrally located on Mackey Street, the Department of Archives has a microfilm collection of historical documents dating back to 1600, as well as photographic and oral history collections and a number of maps and city plans. Open Monday through Friday from 10:00am until 4:45pm. Closed holidays.
On the corner of Shirley Street and Elizabeth Avenue, in downtown Nassau, you'll find the Bahamas Historical Society Museum has displays depicting Bahamas history from pre-Columbus times to the present, including Lucayan-Taino-Arawak artifacts. Open Monday, Tuesday, Thursday and Friday from 10:00am until 4:00pm. Open Saturdays from 10:00am-Noon. Closed Wednesdays and Holidays. Admission for adults is $1.00, children 5-18 are admitted for 50 cents.
Balcony House
An 18th century architectural gem fully restored as a museum. The oldest wooden residential structure in Nassau is open Monday through Friday 9:00am-4:30pm and Saturday from 10:00am-1:00pm. Located on Market Street, just off Bay Street, admission is by donation (subject to change). Call 242-302-2621 for more information.
web: www.centralbankbahamas.com/gallery_house.lasso
The Pompey Museum of Slavery and Emancipation
Located in historic Vendue House on Bay Street, the house used to serve as the locale for slave auctions in the 18th century. A permanent exhibit portrays slavery and post-emancipation eras of the Bahamas. The museum was damaged by the Bay Street fire in 2001 and is scheduled to re-open in the winter of 2004. Call 242-326-2566 for more info.
Nassau Straw Market
On Bay Street, right downtown is one of Nassau's most popular attractions. From early morning until evening, local vendors are selling locally made crafts such as handbags, jewelry, seashell creations & wood carvings. You can also get your hair braided.
(The Straw Market's original structure was destroyed in a fire in the month of September, 2001. The vendors are operating out of a temporary structure provided by the Ministry of Tourism. The white canvas tent-like structure is located one block from the original site, right next door to the British Colonial Hilton.)
Tours
Bird Watching Tours
Participate in bird watching tours with accredited tour guides at the Bahamas National Trust (BNT), located on Village Road, on the eastern side of Nassau. For names and telephone numbers of guides and information on self-guided tours, contact the BNT or the BNT Ornithology Group.Bahamas National Trust.
tel: 242-393-1317 / 242-362-1574
email: bnt@bahamas.net.bs / bnt@batelnet.bs
Walking Tours
Depart from the Tourist Information Centre, Rawson Square, downtown. Tuesday, Wednesday, Friday and Saturday, 10AM – 2PM, by appointment on Monday and Thursday. Tour lasts 45 minutes. Price is $5.
tel: 242-326-9772 / 242-326-9781.
Plus golf, horseback riding and pretty much any water sport you can think of.
New Providence Resources
Bahamas B2B's Vacation and Travel Guide is intended to be an accurate, up-to-date, island-by-island guide to Bahamas vacation and travel resources of interest for both Bahamian residents and travelers.
New Providence Bahamas is a prime choice for a weekend getaway or an extended stay. Several airlines offer service to New Providence. Take either a short flight from the East Coast of Florida or a quick hop from Nassau or Grand Bahama where there is good connecting service from all destinations around the world.