Grand Bahama, in the northern Bahamas, is the second most popular tourist destination among the Islands of The Bahamas. Freeport has the largest and most modern container port in the region and Grand Bahama island also is home to some fascinating natural areas like the Rand Nature Centre, the Lucayan National Park and the Garden of the Groves.
Answers to Questions About Grand Bahama
The Bahamas can be reached quickly by air or by sea. Easy access to The Islands Of The Bahamas makes this tropical playground a popular year-round vacation destination. Its proximity to Florida means just a short hop by jet, a pleasant day by cruise ship, or a memorable voyage by private or charter boat. Explore your options for travel to the Bahamas.
Getting between The Islands of The Bahamas.
Charter Air – For information on air charters and charter air services visit the Bahamas Web Directory Bahamas Air Travel page.
Mailboat – Inter-island mailboats depart from Nassau and run weekly roundtrip to/from all islands. The mailboats are a leisurely way to get around. One-way passage to just about anywhere costs around $35, ranging up to $140 for some round trips. Remember, these mailboats run on Bahamas time, so they're a great way to slow down to the steady rhythm of the islands. For a list of all Bahamas Mailboats with island destinations visit the Bahamas Mailboats page on Bahamas-Travel.info.
Private Boat – You can always charter a private boat to get you where you want to go, on your own time. You will find boat charter companies in the Bahamas Web Directory Bahamas Boats & Boating page.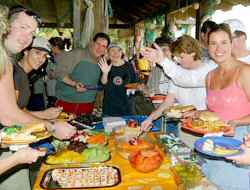 Grand Bahama Restaurants
Grand Bahama Island, Bahamas offers a wide variety of restaurants and dining facilities to satisfy all pockets and palettes. Cuisine from around the globe can be found here with an emphasis on seafood and authentic Bahamian cuisine. We offer our comments from the establishments we have visited and from visitors recommendations.
Bishop's Restaurant & Lounge – High Rock, Grand Bahama Island
Venture out into the East End's settlements to enjoy homemade Bahamian favorites with a good view of the sea. The cracked conch is light and crunchy; the peas 'n' rice full-flavored. Tel: 242-353-4515
Café Michel's – International Bazaar, Freeport, Bahamas
An unpretentious bistro just right for a light meal or snack. Just off the Bazaar's main promenade, the café's features outdoor seating or a cozy interior. The menu has American and Bahamian dishes such as cracked conch, hamburger, fried chicken, and lobster tail. Tel: 242-352-2191
China Beach – Westin Breakers Cay, Our Lucaya Beach & Golf Resort
An elegant dining room with its exhibition kitchen goes far beyond Chinese cuisine, incorporating elements of Vietnamese, Korean, Thai, Indonesian, Malaysian, and other Pacific Rim styles. Tel: 242-373-1333
Ferry House – Port Lucaya, Grand Bahama
This naturally lit restaurant features a bright dining room that hangs over the water just outside the Port Lucaya Marketplace. Its menu leans toward the experimental with dishes like grilled grouper with cardamom carrot purée, rack of lamb with herbed goat cheese, and roasted squab breast. Ferry House serves as the main restaurant for the nearby Pelican Bay at Lucaya resort. Tel: 242-373-1595
Stoned Crab – Taíno Beach, Lucaya, Grand Bahama
This pyramidal-roof restaurant faces Taíno Beach, one of Grand Bahama Island's finest stretches of sand. Crabs of all varieties are the specialty; try stone and snow crab, stuffed crab, and crab cake in the crab sampler. Don't miss the deliciously sweet stone crab claws and lobsters, both locally caught. Other specialties include swordfish, grouper, and yellowfin tuna. Tel: 242-373-1442
Tranquility Shores – Taíno Beach, Grand Bahama Island
A great place for visitors staying off the beach to come for a fun day in the sand. Serves a well-rounded selection of American and Bahamian cuisine such as Philly cheese steak sandwich, conch fritters, grilled grouper, drunken wahoo (fried wahoo with Bahamian-brewed Kalik beer batter), and lamb chops. Tel: 242-374-4460
Willy Broadleaf – Our Lucaya Beach & Golf Resort
Dine in a Mediterranean marketplace, African village, maharajah's dining hall, Mexican courtyard, or Egyptian market. Graze the multicultural buffet line here. Sample global dishes such as Greek stew, wild boar sausage, pork dumplings, tandoori chicken, and scrumptious desserts. Friday and Saturday is seafood buffet night. This eclectic restaurant is open for all meals. Tel: 242-373-1333
North Riding Point Club – Thanks for your interest in North Riding Point Club, the ULTIMATE bone fishing destination! We would be happy to answer any questions for you, or help you with reservations.
Our Lucaya – Our Lucaya Beach & Golf Resort is the most spectacular new resort on Grand Bahama Island, packed with fun, sun and amazing Caribbean experiences. This vibrant new island playground sits on 7 1/2 acres of pristine white sand beaches.
Bishop's Bonefish Resort – 7 Room Resort situated on the beach, East End, Grand Bahama. The perfect get away. Special Hotel Accommodation & Bonefish Packages. Beach Club Restaurant next door. Round trip transfer to Freeport for a small fee.
Club Nautica – Excellent executive residences in Grand Bahama- for sale or rental!
Club Viva Fortuna – The precious paradise that is Grand Bahama opens its arms to receive you to its only All-Inclusive resort, Club Viva Fortuna. Renowned for its ample beach, with white sand and warm tropical waters, you will find this excellent resort, with 276 rooms, both comfortable and attentive to your needs, which combined with the relaxed Island life and amazing natural beauty makes this a first class holiday destination.
Flamingo Bay Hotel – This is a beach property, but not ocean front, only a five minute walk to 1,500 ft. of white sand beach; one of the finest beaches in The Bahamas.
Freeport Resort & Club – Enjoy the relaxed atmosphere and tranquil garden setting at the Freeport Resort & Club on Grand Bahama Island in The Bahamas.
Ocean Reef Yacht Club and Resort – Our spacious 55 slip marina is located just a quarter of a mile off the south shore of Lucaya, and serves as the perfect spot for Angler Meetings, or just to get away from it all.
Old Bahama Bay – Just 56 miles east of Palm Beach, Florida, in West End, Grand Bahama Island, lies Old Bahama Bay – one of the most naturally spectacular and elegant oceanfront resort communities anywhere in the world.
Old Bahama Bay Resort & Marina
While enjoying your Bahamas vacation there are hundreds of activities on land and sea to choose from; sailing, windsurfing, parasailing, fishing, snorkeling and scuba diving, golf, photo tours, biking and hiking.
West End
West End, appropriately located on the western tip of the island, is the oldest city on Grand Bahama Island. This picturesque fishing village is probably best known for its history as a liquor smuggling town during Prohibition.
Deadman's Reef
The home of Paradise Cove, where one can swim out to some of the best snorkeling reefs, and the Brown family, who have lived here for 100 years. A recent archaeological dig along the eroding beach front unearthed many ancient artifacts believed to have belonged to the Lucayan Indians – hearths, animal bones, pottery pieces and shell beads. One of the most important Lucayan archaeological sites to ever be discovered, it has been dated at around 1200-1300 AD.
Holmes Rock
This little community is known for a unique cave that sits behind a local night
club. It is over 200 yards in diameter and produces fresh water at low
tide and salt water at high tide.
Eight Mile Rock
This is the largest settlement outside of Freeport/Lucaya. The town is actually a string of settlements, lumped together, and named after the 8 miles of solid rock contained here.
Hawksbill
The residential area was created mainly to house the workers employed in Freeport/Lucaya. It is located on Hawksbill Creek, which lent its name to the Hawksbill Creek Agreement that paved the way for the creation of Freeport/Lucaya.
Pinder's Point
This string of four connected villages can trace its roots back to a white settler and his slaves. The town has been slow to adopt the American-style fast lane culture that came with the tourist trade, even though it lies just minutes outside Freeport/Lucaya.
Freeport/Lucaya
The capital of Grand Bahama and the second largest city in the Islands of The Bahamas. The city was built expressly for tropical fun. It is the site of many tourist beaches and activities, as well as the International Bazaar and the Port Lucaya Marketplace.
Grand Bahama Resources
Bahamas B2B's Vacation and Travel Guide is intended to be an accurate, up-to-date, island-by-island guide to Bahamas vacation and travel resources of interest for both Bahamian residents and travelers.
Grand Bahama Bahamas is a prime choice for a weekend getaway or an extended stay. Several airlines offer service to Grand Bahama. Take either a short flight from the East Coast of Florida or a quick hop from Nassau or Grand Bahama where there is good connecting service from all destinations around the world.