Tradition holds that San Salvador was the first landmass that Christopher Columbus reached during his voyage to the New World in 1492. With its history and good beaches, the island is sure to undergo further development.
The Bahamas can be reached quickly by air or by sea. Easy access to The Islands Of The Bahamas makes this tropical playground a popular year-round vacation destination. Its proximity to Florida means just a short hop by jet, a pleasant day by cruise ship, or a memorable voyage by private or charter boat. Explore your options for travel to the Bahamas.
Getting between The Islands of The Bahamas.
Charter Air – For information on air charters and charter air services visit the Bahamas Web Directory Bahamas Air Travel page.
Mailboat – Inter-island mailboats depart from Nassau and run weekly roundtrip to/from all islands. The mailboats are a leisurely way to get around. One-way passage to just about anywhere costs around $35, ranging up to $140 for some round trips. Remember, these mailboats run on Bahamas time, so they\\\\'re a great way to slow down to the steady rhythm of the islands. For a list of all Bahamas Mailboats with island destinations visit the Bahamas Mailboats page on Bahamas-Travel.info.
Private Boat – You can always charter a private boat to get you where you want to go, on your own time. You will find boat charter companies in the Bahamas Web Directory Bahamas Boats & Boating page.
San Salvador Restaurants
San Salvador, Bahamas offers a limited variety of restaurants and dining facilities specializing in seafood and authentic Bahamian cuisine. We offer our comments from the establishments we have visited and from visitors recommendations.
Riding Rock Inn Resort & Marina – Located on the small island of San Salvador in the Bahamas 360 miles southeast of Miami – sits one of the premier scuba diving resorts and fishing Meccas of the world.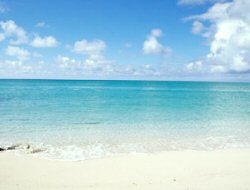 Like many of the other Out Islands of The Bahamas, San Salvador provides excellent locations for scuba diving.
San Salvador may be a small island, but it is dotted with monuments, ruins, and other things to do and see out of the water.
Winding around San Salvador\'s dozen or so land-locked lakes, you can see plantation ruins in the towns of Fortune Hill and Sandy Point, including the well-known Watling\'s Castle.
Island Attractions
Farquharson Plantation
Locally referred to as "Blackbeard\'s Castle" because the legendary pirate may have held court here, these are the most famous plantation ruins in The Bahamas. They include what might have been a great house, a prison and a kitchen. There is also a cattle trough cut out of solid rock.
Dixon Hill Lighthouse
Built on a former plantation by the Imperial Lighthouse Service in 1887, this is one of the last hand-operated, kerosine-lit lighthouses in the world and the last of its type in The Bahamas Islands. You can climb 160 feet to the top of the lighthouse, which has a visibility of 19 miles.
Columbus Monument, Long Bay
A white cross, erected on 25th December 1956 by Ruth Durlacher Wolper, to commemorate the landfall of Christopher Columbus on San Salvador, during his discovery of the New World in 1492.
Watlings Castle, Sandy Point Estates
Once the headquarters of the buccaneer George Watling these substantial plantation ruins include buildings once used for industrial or storage purposes, a main house, a cookhouse, and slave quarters.
New World Museum, Palmetto Grove
Housed in a 1910 building formerly used as the government\'s administrative offices and jail the Museum was founded in 1958 by Ruth Durlacher Wolper. It contains many important artifacts, Lucayan pottery, paintings of Columbus\\\\' landfall and artifacts from an original Arawak Indian settlement.
Bahamian Field Station
Occupying an old U. S. Navy base the field station was formerly used by a consortium of Colleges in upstate New York. It is now operated by the College of The Bahamas in Nassau. It is set up for academic research in the areas of Archaeology, Biology, Geology and Marine Sciences.
Pigeon Creek Indian Site
Archaeological excavations have shown that the Arawak Indians had villages here.
Water Sports:
Water sports are naturally a popular vacation activity with water temperatures averaging about 80ºF year-round throughout The Bahamas.
Snorkeling:
View caverns, unique ocean life (such as bonefish, barracuda, and the spotted eagle ray), and coral clusters. Become acquainted with the stunning beauty of the Bahamian reefs. San Salvador diving operators can take you out on an organized trip. Or, if you want to venture out on your own, just head to the water from the beach at your hotel or any public beach.
Diving:
San Salvador has shallow reefs teeming with tame and friendly marine life. First discovered by scuba divers in the 1970s the water has a stunning clarity, with a typical visibility of 100 feet to 150 feet; and more than 20 miles of dramatic vertical walls, beginning at a depth as low as 40 feet.
Nightlife:
Driftwood Bar & Lounge
Located in Cockburn Town the Driftwood offers beer, wine, sodas and a wonderful variety of blended island drinks from expert local bartenders. You can also enjoy sports games via cable TV, try the ring toss game or relax on the open air patio and enjoy great views of San Salvador\\\\'s western shoreline and beach. Tel: 242-331-2631
Harlem Square Club
Also in Cockburn Town the Harlem Square Club features Bahamian and American cuisine with disco on weekends. Tel: 242-331-2777
Tours:
Nat Walker´s Island Adventures
Nat Walker is the island\\\\'s Warden for the Bahamas National Trust and has a unique understanding of the islands nature and history. Tel: 242-331-2111
Island Tour
This tour follows the island\\\\'s only road, covering 36 miles of history and Bahamian culture. Your tour guide will point out Farquharson\\\\'s Castle, the beach where Christopher Columbus first made landfall in the New World, the Club Med resort, Low Cay which is home to the endangered iguanas, and more. You´ll also visit the working lighthouse, one of only three remaining hand-wound lighthouses in the world. Your tour can be customized to include horseback riding along the beaches or lunch in a local Bahamian restaurant.
Lakes Nature Tour
This morning nature tour, includes boating within untouched miles and miles of salty inland lakes which make up the majority of San Salvador. You will have perfect photo opportunities for white egrets, cormorants, iguanas, and the classic San Salvador lighthouse. Giant cactus, palm trees, and mangrove swamps are alive with wildlife. You´ll see how the mail boats used to bring supplies to the lighthouse, and where the British constructed rock canals for boat traffic. Lunch can be a shore picnic on the unique beaches made from millions of tiny shells, or a delicious conch meal served at a local restaurant after the tour.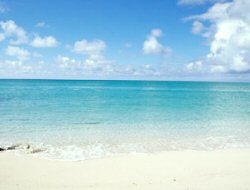 San Salvador Resources
Bahamas B2B\'s Vacation and Travel Guide is intended to be an accurate, up-to-date, island-by-island guide to Bahamas vacation and travel resources of interest for both Bahamian residents and travelers.
San Salvador Island Bahamas is a prime choice for a weekend getaway or an extended stay. Several airlines offer service to San Salvador. Take either a short flight from the East Coast of Florida or a quick hop from Nassau or Grand Bahama where there is good connecting service from all destinations around the world.