MasterCard's Priceless Bahamas Program Returns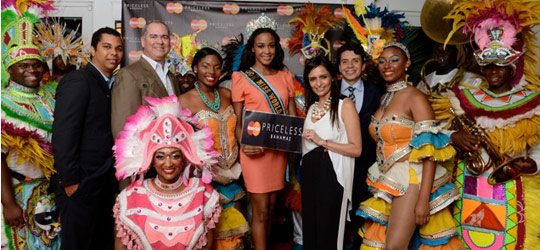 Thursday, May 30th 2013 – Nassau, Bahamas – MasterCard, in partnership with the Ministry of Tourism for the Islands of the Bahamas, announced the launch of the 2013 Priceless Bahamas program during an exclusive cocktail event for participating merchants, tourism industry influencers and media. The successful destination program was initially launched as the Find Your Way program in 2008 and evolved into Priceless Bahamas in 2012.
This year, MasterCard welcomes 56 participating merchants with more than 70 locations in Nassau and Paradise Island. This number represents a fifty-five per cent increase in the number of participating merchants since the program's inception with 36 merchants in 2008. Participating merchants represent six categories or "passion points" which include culinary, sports, lodging, travel, arts and culture and shopping.
"In 2013, Priceless Bahamas will continue to offer MasterCard cardholders unique experiences and exclusive benefits through a series of special offers designed to enhance the visitor experience," said Rafael Puebla, head of Marketing for Colombia, Venezuela, Ecuador and the Caribbean for MasterCard  Latin America and Caribbean region. "In addition to discounts and offer benefits, cardholders will enjoy priceless experiences including access to exclusive celebrity events, excursions and unique cultural festival experiences."
For the first time since the program's launch, two major hotels and two airlines have enlisted to join the program. MasterCard cardholders will be able to enjoy daily $10 resort credit for stays of three nights or longer at The Sheraton Nassau Beach Resort & Casino, as well as a fifty per cent discount to guests purchasing a day pass with their MasterCard at Compass Point Beach Resort.
New participating merchants also include Bahamasair and Sky Bahamas, which will offer travelers who pay with MasterCard 500 frequent flyer points at enrollment and a free gift with purchase respectively. A total of twenty-four new merchants have been added to the annual program.
"The Bahamas is without a doubt a key tourist hotspot in the Caribbean and we are happy to partner with the Ministry of Tourism and merchant partners on this very important initiative.  We have high expectations for 2013 and we hope to achieve even more successes than in previous years," said Ray Merceron, vice president and territory head for the Western Caribbean.
Returning major retailers include John Bull, Carlo Milano, Columbian Emeralds and Diamonds International. For a complete list of merchants and program details, please visit http://www.mastercard.com/bs.
The Bahamian Deputy Director General of Tourism, Ellison Tommy Thompson, added, "We're excited to partner with MasterCard once again in 2013 as we continuously seek to support programs that enrich the destination experience for visitors to our island.  The value proposition provided by "Priceless Bahamas" provides visitors with yet another reason to make The Bahamas their destination of choice. We are behind the program one hundred percent and truly encourage those planning a trip to take advantage of the extraordinary deals and live a 'Priceless Experience' in The Bahamas."
Fusion IMC

business, money