Featured above: SAI 2021 Intermediate cohort with SAI Founders and Coordinators Keisha Oliver and Antonius Roberts
Summer Arts Immersion (SAI) is a scholarship-based intensive arts program that was launched in 2018. Since transitioning to virtual and hybrid learning platforms in 2020, the experience allows high school seniors and graduates to delve deeper into their creative practices. Founded by Keisha Oliver and Antonius Roberts, the program has engaged a number of Caribbean artists and educators including Philece Roberts, Allan Pachino Wallace, Camille Chedda, Willicey Tynes, Nowé Harris-Smith, Lamaro Smith, Kendra Forup, Maxwell Taylor and others who have participated as instructors and feature artists to make this program possible.
SAI aims to give students a well-rounded arts experience in foundation studies by teaching classes that have included drawing, photography, printmaking, mixed media, creative writing, digital media and more.
"Drawing portraits has never been a strength, but I'm proud of the progress I've made in SAI. In August I plan to begin my Art Education program at the University of The Bahamas and look forward to developing my fine art skills."
-Daysha John
SAI 2021 Art Student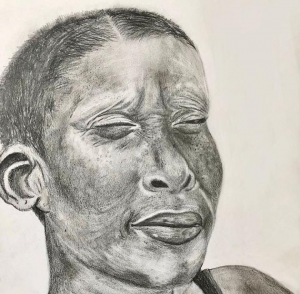 On Saturday, July 31st, 2021 at 11 a.m. SAI invites the public to join its 2021 Student Presentations via Zoom where participants will share their creative work and experience.
Register for event here: https://bit.ly/3i7a2P0
To learn more about SAI or view student work follow them online: Instagram | Twitter | Facebook | Youtube.
Article By: Jalan Harris