By: Velyn Cooper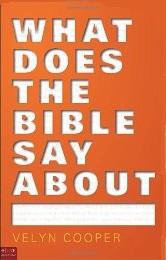 Velyn Cooper's book, "What Does the Bible Say About…", helps readers explore some of the most confusing topics in the Bible, providing thoughtful biblical commentary that encourages readers to delve deeper into Scripture.

"What Does the Bible Say About…"
By Velyn Cooper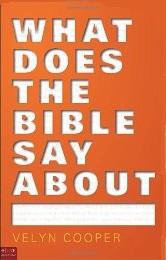 Focuses on basic topics that a lot of persons have opinions about but unfortunately, are not certain of the biblical perspectives of these topics. Topics such as: God, God's Spirit, Jesus, Heaven, Hell, The Dead, The Second Death, the heavens and the earth, the catching away (Rapture) of the Saints, After the Rapture; the Seven Plagues & Babylon, the destruction of Babylon, the Marriage Supper, the Millennial Reign of Christ?
This book looks at these topics form the biblical perspective as opposed to personal views/opinions of these topics.
Perfect Paperback: 232 pages
Publisher: Tate Publishing (August 16, 2011)
Language: English
ISBN-10: 1617773697
ISBN-13: 978-1617773693
Product Dimensions: 8.2 x 5.2 x 0.6 inches
Shipping Weight: 10.4 ounces