The incredible, edible chickpea!
Take a walk on the healthy side and try this creamy and cholesterol-free chickpea salad. Swap chickpeas for eggs or tuna, and boost the fiber content while getting a great source of plant-based protein.
This chickpea salad can be as basic or as fancy as you'd like, depending on what you've got lying around your kitchen. Start with the two base ingredients of chickpeas and vegan mayonnaise and the rest is up to you!
I prefer to make my chickpeas from dried. Yes, it does require some planning but the results are so much tastier and far less mushy. Not to mention, dried beans are much more cost-effective.
When preparing your chickpea salad, you can play with the texture. For a chunkier more homestyle salad, simply smash the chickpeas with a fork. This will leave some chunks of chickpeas but still helps it combine. For a smoother, more restaurant-style salad, try blending everything in a food processor. Add chickpeas little by little until you reach your desired texture. I like preparing chickpea salad in the food processor if I'm serving people who don't love chickpeas. It helps mask the texture and taste, while also making it look less like a chickpea salad.
This particular day, I was hungry and didn't want to bother with the food processor. So I gave my homemade chickpeas a quick mash, added some vegan mayonnaise until it was just creamy enough. Then I mixed in sundried tomatoes, red onion, capers, fresh lemon juice, salt and pepper.
Enjoy this chickpea salad for up to 5 days after making it. I find it tastes best after sitting in the fridge overnight. I ate it spooned onto toast, piled it high into some cucumber boats, and also on a toasted bagel.
Keep in mind this recipe is very flexible and should be made to your liking. The texture, creaminess and mix-ins are all up to you! You're going to love this chickpea salad.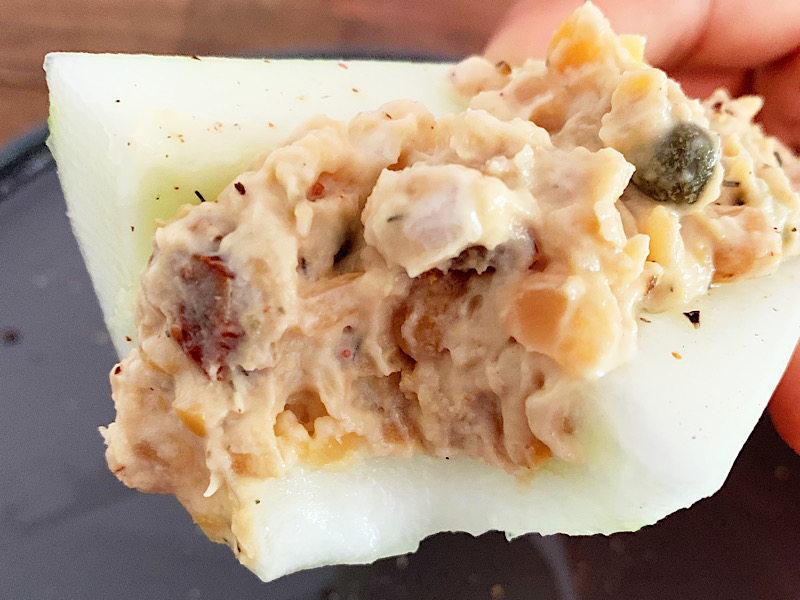 Chickpea Salad
Base:
2 cups cooked chickpeas
1 ½ cups vegan mayonnaise
Mix-In ideas:
Sundried tomatoes
Capers
Onions
Pickles
Celery
Olives
Method:
For a chunkier salad, mash chickpeas and mayo with a fork until desired texture is reached. For a smoother salad, blend chickpeas and mayo in a food processor until you reach your desired texture.
Transfer chickpea and mayo mixture to a bowl and stir in any mix-in ingredients.
Store in a glass container for up to 5 days in the fridge.
Recipe notes:
-You may need more or less mayonnaise depending on your preference & mix-in choices.
-If using canned chickpeas, drain and rinse well before using.
What will you mix-in to your chickpea salad? Snap a pic and tag us on Facebook or Instagram @bahamasb2b