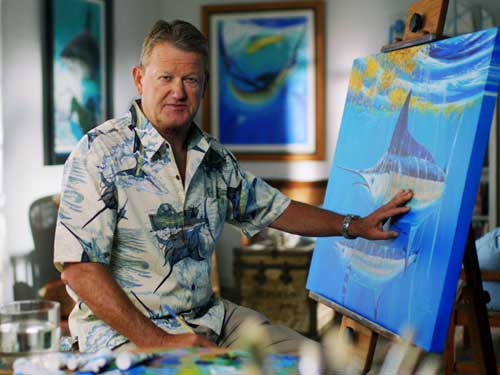 Internationally acclaimed marine artist and conservationist Guy Harvey, a former professor who has turned the many ocean species he once lectured about into a brand stretching from belt designs to huge murals, will be in Nassau for two days next week to boost a campaign to save the Nassau grouper.
Dr. Harvey's visit is hosted by the Bahamas National Trust and made possible by the sponsorship of Louis Bacon's Moore Bahamas Foundation.
"We are very excited about working with the Bahamas National Trust in its ongoing campaign to preserve the Nassau grouper," said Moore Charitable Foundation and Moore Bahamas Foundation Executive Director and Vice President Ann Colley. "Bringing together local environmental organizations, scientists and Guy Harvey focuses attention on an issue that needs that kind of attention and creates a platform for researchers and concerned citizens to come together to share information."
Harvey will participate in workshops on Monday, June 10 and Tuesday, June 11, along with more than a dozen environmentalists and scientists. On Monday evening, he will host the showing of 'The Mystery of the Grouper Moon', a documentary shot during seven days of filming in the Cayman Islands. Members of the Bahamas National Trust have been invited to attend along with special guests who have demonstrated concern with the marine environment and representatives from environmental organizations including BREEF, Save The Bays, The Nature Conservancy, Young Marine Explorers, students from a special marine program at CV Bethel and many others.
"The study of how to rebuild Nassau grouper stock so that The Bahamas avoids the plight of other countries and islands in the region whose stocks are so depleted there is no grouper fishing allowed is a critical issue and one that the Bahamas National Trust considers a top priority," said BNT Executive Director Dr. Eric Carey. "We are grateful to the Moore Bahamas Foundation for adding the Guy Harvey visit to the effort. Celebrity status never hurts and when the celebrity has demonstrated sincere concern as Guy Harvey has, working with the Grouper Moon Project based in Little Cayman, it's all that much more valuable."
The Grouper Moon Project involved field studies documented by filmmaker George Schellenger with participants from Oregon State University. Harvey created art work for its promotion, including posters, and has lent his support, voice and enthusiasm to the project and the film's distribution.
Bringing the man whose artwork of big game fish and tiny coral and sponges decorates airport walls and the backs of millions of tee-shirts to The Bahamas is the latest in a series of events made possible by donations from the Moore Bahamas Foundation. Moore Bahamas Foundation recently donated $50,000 to BREEF, the Bahamas Reef Environmental Educational Foundation. Foundation founder Louis Bacon is a world-renowned conservationist. In January, he received the National Audubon Society's highest award and in April was named by Forbes magazine as one of the world's greenest billionaires.