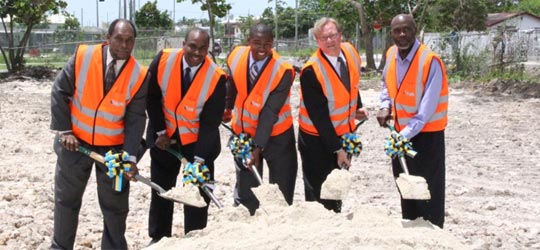 The country's leading road marking company, Bahamas Striping, celebrated the groundbreaking of its new headquarters and manufacturing plant last Thursday on land leased from the Bahamas Agricultural & Industrial Corporation.
The project, representing a $400,000 investment, is located in the industrial park near Abundant Life Road and will house offices, storage, training facilities and a manufacturing plant for concrete products such as parking lot wheel stops.
Keynote speaker at the event, the Hon. Ryan Pinder, MP and Minister of Financial Services said he was proud of Bahamas Striping for its determination to succeed and for being concerned about the plight of young unemployed Bahamians.
Also attending was the Hon. Renardo Curry, Parliamentary Secretary for Abaco and MP for North Abaco, where Atario Mitchell lived as a child and grew up.  Curry said he was proud that a young Abaconian could have achieved so much in such a short time.
Don Major, Deputy General Manager of BAIC welcomed Bahamas Striping into its park as a great example of what Bahamians can achieve. The manufacturing plant will provide opportunities for many young men to have jobs and trained in manufacturing skills.
VIPs included David Bullock, Chief Engineer of Civil Design at the Ministry of Works & Urban Development. The invocation and the blessing of the ground were performed by Father Anselm Russell of Sacred Heart Roman Catholic Church.
Pinder, who is the Member of Parliament for Elizabeth Constituency, praised his Elizabeth constituent Atario Mitchell, for being a good role model and a mentor for the 13 young Bahamians who comprise Bahamas Striping's crew.  Ryan commended BAIC for helping Bahamian entrepreneurs become successful.
"I want to commend BAIC for having the vision and working hand-in-hand with a young Bahamian-owned business to cause this expansion with this groundbreaking on government land and for providing the access and opportunity for Bahamian entrepreneurs. Bahamas Striping is here today because of multi-agency synchronizing and efficiency to ensure provision of opportunity. That's an example of what good governance is about: to create opportunity for young Bahamian entrepreneurs," said Pinder. "And that's the philosophy that operates in this government."
"What we'll see is Atario acting as a role model for young entrepreneurs in the Bahamas. And what demonstrates the character of the leadership with Atario and his executive is his interest in helping his country, his community and the people of this country," said Pinder.
"As his member of parliament I can see at the ground level how he wants to give back… … those are the leadership traits that need to be recognized," said Pinder.
Minister Pinder, who is in charge of growing manufacturing in the Bahamas, said: "As minister responsible for manufacturing, it is my duty—not only my desire, but my duty—to ensure that any of the available incentives and government support now in place and in law shall be extended on an expedited basis to your company. That is the right thing to do," said Pinder.
Highlighting Bahamas Striping's philosophy of training and mentoring young men, Minister Pinder said: "I value what you are doing in this country, not just creating a business for yourself but creating a framework for many young men to succeed."
"So, I want to congratulate you and, as you already know, you have the full support of the government," said Pinder.
Don Major from BAIC said that: "Mitchell didn't turn to crime or gang activities like so many young but instead used hard work to build something. I've been watching this young rising company from its start three years ago and am amazed what they've achieved. Here they are on BAIC land next to some great entrepreneurs. We're proud to help him with inexpensive land so he can go and get funding for building his business. This is what BAIC is all about: helping Bahamian entrepreneurs. The government is doing its job and this is a great example," said Major.
President Atario Mitchell thanked Deputy Prime Minister Davis, Ministers Ryan and Curry, BAIC and all the government ministries and BAIC for their valuable support. Mitchell gave thanks to the Bahamas Striping crew, and his managers and mentors who helped him build a successful company. He also thanked the former Minister of Youth, Sports & Culture, the late Charles Maynard, and the former Deputy Prime Minister Brent Symonette for their help in the first two years of operation.
Mitchell said that: "This new head office and manufacturing plant will consist of a state of the art classroom where our staff will be taught and trained in all aspects of road striping. That's both theoretical and hands-on technical training using the UK standards according to the Chapter 5 striping manual to which our country complies with. Here, young Bahamians will also be working in our manufacturing division producing concrete wheel stops, paving stones, anti-parking pyramids and other decorative concrete products. "
"It is our goal by the end of September to hire at least another 40 young men in our training program.  Although we are a Nassau-based company, all of these new hires will not come from Nassau alone. It is our intent to hire a significant number from Abaco and Eleuthera and other islands as we go to them," said Mitchell.
"My vision for our head office in Nassau is to bring in young men that seek opportunity from the family islands, to train them in road striping, maintenance and manufacturing, and have them return back to their island to make their roads safer and properly maintain them", said the 25-year old president.
At the ceremony, Bahamas Striping also announced its new managing director, Mr. Allen Albury from Grand Bahama Island.
The single steel structure is being built to help train teams of young men in various aspects of striping and road maintenance and manufacturing of various concrete products including wheel stops, paving stones and anti-parking pyramids. Mitchell said the company intends to grow into a full road services maintenance company where it can install or provide anything related to traffic safety and road maintenance except the actual paving of roads.
Submitted by Bob Bower
Caption: Bahamas Striping, a three-year old road marking enterprise that's expanding into manufacturing of concrete road products, broke ground on its new headquarters and manufacturing plant to be built on BAIC leased land in the industrial park located at the north end of Abundant Life Road in Nassau, adjoining Chelsea's Choice. With Bahamas Striping's 26-year old company president, Atario Mitchell (center) were (L-R): Don Major, Deputy General Manager of BAIC; the Hon. Renardo Curry, MP for North Abaco; the Hon. Ryan Pinder, Minister of Financial Services and MP for Elizabeth constituency, and Bahamas Striping's new Managing Director, Allen Albury.  Keynote speaker at the event, Minister Pinder praised Mitchell, his company and its willingness to help the country and local communities, and he praised BAIC for aiding young entrepreneurs with opportunity. Pinder promised Bahamas Striping and other enterprises like it, the full support of the government.