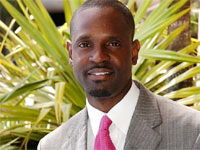 After celebrating a banner year, the immediate past president of Toastmasters Club 1600, Pedro Young has been appointed as the new Area Governor for five local clubs.
He is tasked with helping club presidents of the public speaking and leadership organization obtain the performance goals they have set for the new Toastmasters' year. A new slate of officers assumed their posts on July 1.
The core unit of Toastmasters is the club, typically comprised of 20-30 members. The organization has 13,500 of them world-wide in 116 countries.
A group of four to six clubs form an 'area' supported by an area governor and council. Four to six areas form a 'division' supported by a division governor and council.
"This appointment will challenge my leadership abilities, but I look forward to the challenge," said Mr Young, who was nominated for the job by Division Governor Curtis Bryan.
Mr Young works as the sales manager at Bahamas Vacations International and founded the Bahamas Real Estate Expo.
He congratulated Toastmasters' 2013/2014 executive officers and wished them a successful year.
As the Area 90 Governor, Mr Young's responsibilities includes serving as the liaison between the district and five clubs via semiannual visits in order to better understand how clubs are fulfilling member needs and how the district supports each club.
In The Bahamas' Toastmasters International has a 44-year history, beginning with the first Bahamas branch of Toastmasters, Club 1600, of which Mr Young is the immediate past president. Franklyn Winder is the new president.
During Mr Young's presidency, Club 1600 obtained the 2012/2013 President Distinguished Club accreditation – the highest honor a club could obtain. The accomplishment followed on the heels of four Club 1600 members snagging top awards last year during an annual district conference.
A 10-year veteran of Toastmasters, Mr Young has held numerous posts in the organization including club secretary, VP of public relations, VP of membership and VP of education. He was mentored by distinguished Toastmaster Antionette Fox.
"Companies or organizations wishing to strengthen their management, sales team, or just their front and back line staff should start a Toastmasters Club," says Mr Young. "It will propel your company to higher heights."
Precision Media
Caption
Pedro Young, the immediate past president of the First Bahamas Branch of Toastmasters, Club 1600 has been appointed Area Governor.