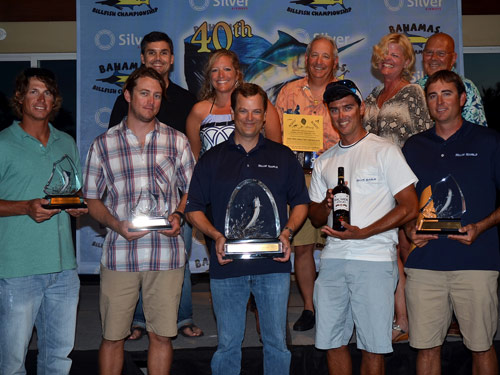 After placing third in the Treasure Cay Championship and moving into contention for the Bahamas Billfish Championship title, Brad Jones changed his team Blue Eagle's tournament itinerary to include the Series' final leg at Marsh Harbour. It proved to be a rewarding decision for the Port Aransas, Texas team.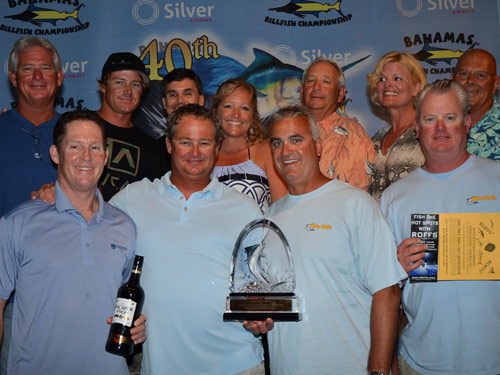 Brad Jones caught and released three blue marlin during the first three days of the four-day tournament hosted by Abaco Beach Resort & Boat Harbour Marina. The final day of the tournament started with Blue Eagle in first place by a slim 100 point margin over Krazy Salt's. Dave Anderson's Krazy Salt's was sitting in second place with 1,700 points after catching two blue marlin, one white marlin and three sailfish. Overtaking Blue Eagle was not Krazy Salt's only concern. Bobby Jacobson's new 61 Spencer, Marlin Darlin, was sitting in third place with 1,600 points.
Despite the fact that Brad Jones went 0 for 1 on the final day, the best that Krazy Salt's could do was to release a sailfish for 100 points. It was the same story for Marlin Darlin. Despite catching two blues and two whites over the first three days, on the final day, the Clearwater, Florida team released a sailfish.
Since Blue Eagle was the first team to achieve 1,800 points they finished in first place with Krazy Salt's in second. Third place went to Marlin Darlin. The win earned Blue Eagle a beautiful Randy Rich trophy and a $1,000 gift certificate from Aqualuma Lighting. The trophies were presented by the tournament sponsors Bank of America Private Wealth Management, ISR Marine Insurance, Smith- Merritt and Travelers. Capt. James Parker and the crew of Blue Eagle received Randy Rich acrylic trophies presented by Steve Lewis of the Lewis Marine Group.


In addition to custom designed Randy Rich trophies, the three winning teams also received gift certificates from Roffer's Ocean Fishing Forecasting Service (ROFFS) and bottles of Bacardi Anejo from Bacardi and Bristol Wine & Spirits.
Top Tournament Angler honors went to Brad Jones who received a Carey Chen artwork presented by ISR Marine Insurance, Smith-Merritt Insurance and Travelers. All anglers in the 2013 BBC series were competing for the newly created Jim Lambert Memorial Trophy. The trophy was presented to the BBC's top angler at the 40th Anniversary celebration after the Marsh Harbour Championship.
For the BBC's fourth and final leg of 2013, 46 billfish were caught and released. Twenty-five were blue marlin, 12 were white marlin and 9 were sailfish. BBC rules require that all releases be validated using time and date stamped digital images. Affidavits signed by all participants fishing on each team further confirms that the fish was released in accordance with IGFA and Bahamas Billfish Championship rules.
After his successful appearance at the Treasure Cay Championship, country recording artist Colton James returned to Abaco to perform an acoustical concert for the anglers and their guests. The free 'lay-day' concert was the result of the cooperative efforts of the Bahamas Billfish Championship, Bank of America Private Wealth Management, Bertram Yacht, Abaco Beach Resort & Marina, and the Bahamas Ministry of Tourism Abaco Office.
The Marsh Harbour Championship marked the conclusion of the BBC's 40th season. The Bahamas Billfish Championship is the oldest billfish tournament series in the world. Anglers can fish any or all of the tournaments with cumulative points determining the overall Bahamas Billfish Champions. The BBC endowed two scholarships that enable Bahamian students the opportunity to pursue a degree in marine biology or advanced education in the marine technologies.
For the very latest tournament information, results, overall standings or to sign-up to receive the quarterly e-magazine, The Teaser visit www.bahamasbillfish.com. Or contact the Bahamas Billfish Championship at 866-920-5577 or e-mail: info@bahamasbillfish.com.
Captions:
Top: Blue Eagle | Middle: Krazy Salt | Bottom: Marlin Darlin