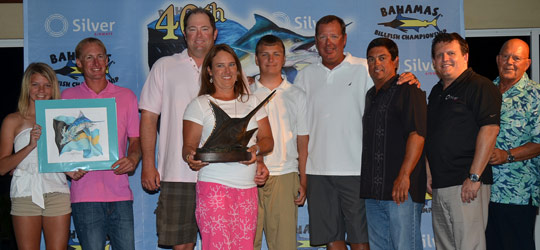 Cowpoke's decisive win at the Treasure Cay Championship propelled the Avon Park, Florida team into first place in the overall 2013 Bahamas Billfish Championship standings. Despite the lead, Cowpoke needed a strong performance in the final tournament of the Series to insure the overall title.
Several contenders for the crown were within striking distance. One such contender was Blue Eagle whose owner, Brad Jones, realizing the chance to win the overall Championship, changed his team's tournament itinerary to include the Series' final leg at Marsh Harbour.
During the Marsh Harbour Championship, Cruiser Crews' Cowpoke caught and released one blue marlin, one white marlin and a sailfish adding an additional 900 points to their total. Blue Eagle, on the other hand, caught and released three blues, won the tournament and, with bonus points, added 2,400 points to the Port Aransas, Texas team's total. Cowpoke's 900 points proved to be enough to insure First Place Overall for the Florida cattle rancher whose team finished the Series with 6,900 points.
Blue Eagle finished the season with 5,900 points; Second Place Overall in the Championship. Like Blue Eagle, Luis Bacardi's team Rum Bum fished three of the four tournaments in the 2013 series. Consistently good catches of blue marlin and a second place finish at the Harbour Island Championship earned the Coconut Grove, Florida 57 Bertram 4,400 points and placed the team Third Overall.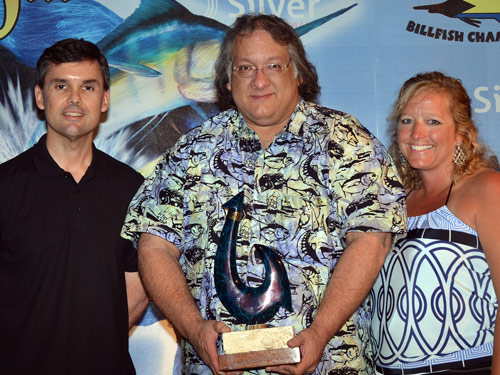 Luis Bacardi's cumulative 2,900 points for the season got him the Jim Lambert Memorial Trophy for being the Top Angler for the 2013 Bahamas Billfish Championship. Jim Lambert was a avid BBC competitor for years and won the Championship in 1998. He was a member of the BBC's Steering Committee and instrumental in the establishment of the BBC's Scholarship Fund. The newly created trophy was presented by ISR Marine Insurance, Smith-Merritt Insurance and Travelers.
During the 2013 season, team Cowpoke released five blues, eleven whites and three sailfish. The team finished first at Treasure Cay and third in the Guana Cay Championship. At the awards ceremony marine artist Steve T. Goione presented Cruiser Crews with the original artwork used for the BBC 40th Anniversary logo. Presenting sponsor Silver Airways awarded team Cowpoke with the Overall 1st Place bronze trophy by Bodo Muche. Making the presentation was Silver Airways Director of Sales & Business Development, David Gentry.
Andrew Pinder of Abaco Gold, sponsors of the BBC Championship Ring, presented Cruiser Crews with a special edition, 40th anniversary Championship Ring. Cowpoke captain Mike Brady received the Lindsay Forde Memorial Trophy sponsored by the Lewis Marine Group and presented by Steve Lewis, Liz Forde and McKenzie Forde.
Fishing three of the four BBC tournaments, Blue Eagle released six blues, four whites and two sailfish. Those points and bonus points for a first place at Marsh Harbour and a third place at Treasure Cay resulted in 5,900 points for the 61 Viking and a Second Place Overall trophy by Bodo Muche from Silver Airways. In addition, Blue Eagle received a $1,000 gift certificate from Alexseal.
A second place finish at Harbour Island combined with bonus points for a Grand Slam contributed to Rum Bum's total 4,400 points. For the season Luis Bacardi released four blues, two whites and one sailfish. Bacardi was also the recipient of a Bodo Muche trophy for Third Place Overall presented by Silver Airways.
During the four legs of the 2013 Bahamas Billfish Championship, 37 teams competed releasing a total of 129 billfish. Of those, 59 were blue marlin, 55 were white marlin and sailfish accounted for 15. In all BBC tournaments releases are validated using time and date stamped digital images. Affidavits signed by all participants fishing on each team further confirms that the fish was released in accordance with IGFA and Bahamas Billfish Championship rules. In the 2013 season, all billfish were released.
The 2013 awards ceremony at the conclusion of the Marsh Harbour Championship marked the finish of the BBC's 40th season and a three-month40th anniversary celebration. The Bahamas Billfish Championship is the oldest billfish tournament series in the world. As an expression of appreciation to the people of The Bahamas, the BBC has endowed two scholarships funds that enable Bahamian students the opportunity to pursue degrees in marine biology or advanced education in marine technologies.
For the very latest tournament information, the BBC's 2014 schedule or to sign-up to receive the quarterly e-magazine, The Teaser visit www.bahamasbillfish.com. Or contact the Bahamas Billfish Championship at 866-920-5577