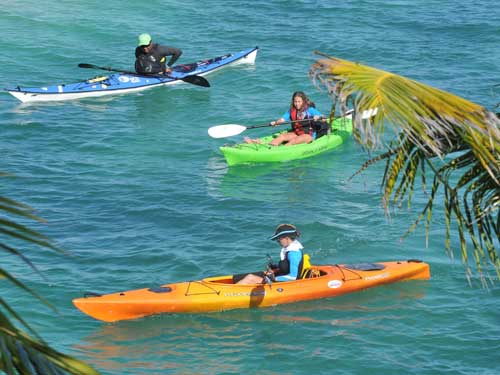 It was billed as the first annual Palm Cay Fish 'n Feast, and even if the biggest fish weighed in at just under three pounds and hardly required a fight, the event was everything organizers hoped for and more, living up to its name as a fishing un-tournament and a Father's Day guests will long remember.
"It was awesome, a really great day," said Zachary 'Zack' Bonczek, director of Sales & Marketing at Palm Cay, the $200 million beachfront community on Nassau's southeastern shore.
Bonczek knew he was taking a risk, scheduling a family fishing day on Father's Day. Would participants show up? Would the event draw a crowd to enjoy the conch salad, beverages, poolside activities, music, bouncing castle? The risk paid off. More than 30 families officially registered, more than a dozen went out on boats, most letting their little ones test their mettle against the best the sea had to offer.
In some cases, three generations of family members were represented at the event. Grandmother, Judy Higgs, watched as her little grandchild Ellie Ann brought in a blue runner that tipped the scales at 2.9 pounds, nearly half her size. Dad, Andrew, had to persuade her that part of the fun of the catch was being pictured holding the fish. The seven-year-old fishing star overcame her shyness, took her place and walked away with the trophy for biggest fish. Chloe Campbell caught a small yellowtail snapper, winning the prize for the prettiest fish and Josh Roberts' squirrel fish, also known as a big-eye John, was a clear favourite for the trophy for ugliest fish.
"We're a nautical residential community on the waterfront with the largest marina in terms of numbers of boats in New Providence," said Bonczek. "Many of our residents chose Palm Cay because of the marina and the waters, so it made all the sense in the world to arrange something fun for the whole family. Besides, I'm a dad," says Bonczek. "Every year my wife and daughters struggle to figure out what I would like to do for MY day. This year, I suggested that they just ask me," he joked.
They did ask.
And Bonczek told them there's nothing he would rather do than go fishing for a few hours, return to shore, clean, cook and eat the fish he just caught. The idea was born.
"Realizing that was what I wanted, I said, 'Why don't we make it possible for lots of dads to have a fun day of fishing,' and we can do it right here from Palm Cay where we have a 194-slip marina, lots of space for boats to dock, sign up, get their tee-shirt, get out in the water, fish and understand that it's all in fun, come back in later in the afternoon, clean and cook what they caught in a community party-cook-out atmosphere," Bonczek said. "The whole idea of the Family Fish 'n Feast was born from that."
Fish 'n Feast is the latest in a series of events at the 69-acre community of single family homes, beachfront and interior townhomes, clubhouse, pool and Nassau's largest marina. Future plans call for low density condominiums, a full restaurant, fitness centre, tennis courts and a small boutique hotel to serve yachtsmen.