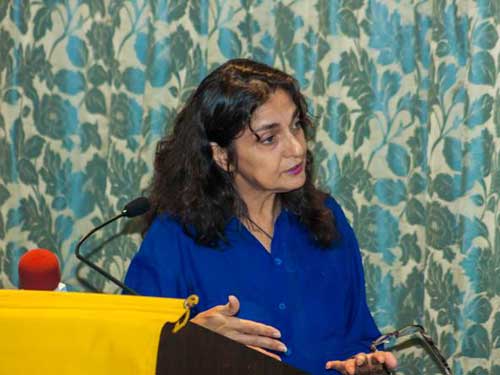 Declaring "this level of secrecy is unacceptable," environmentalist Sam Duncombe urged the public to join Save The Bays in demanding a Freedom of Information Act that would end unregulated development and provide opportunity for citizens to learn and be consulted about plans prior to projects being approved. Duncombe was addressing the Rotary Club of Nassau Sunrise at the British Colonial Hilton. Since its launch in March this year, Save The Bays has been building momentum,  gathering community partners, collecting signatures on a petition, exploding on Facebook, pounding the pavement, filling the airways and taking legal action to raise awareness about unregulated development and what its supporters call the urgent need for transparency.
"Freedom of Information is a fundamental human right and such laws establish a right-to-know legal process by which requests may be made for government-held information to be received freely," said Duncombe. "It protects citizens, communities and strengthens democracy, improves communication and builds trusts. We believe that a public environmental review allows the citizenry and the decision makers the opportunity to make a clear assessment of costs and benefits of a project prior to its commencement."
According to Duncombe, more than 90 countries around the world have implemented some form of freedom of information legislation and many developed countries including Mexico, Nigeria, Uganda and the People's Republic of China have thriving legislative acts.  In The Bahamas, the Freedom of Information Bill was tabled in October 2011, but has not been enforced. The government announced earlier in the year that a proposed Freedom of Information Act was being reviewed by the Law Reform and Revision department in the office of the Attorney General and the Attorney General Sen. Allyson Maynard-Gibson has gone on record in full support of the legislation.
"We do it all backwards," said the environmentalist who has been at the forefront of many issues revolving around conserving, preserving, rescuing and restoring the often delicate ecological balance of The Bahamas.
The public,  Duncombe said, deserves the right to know when a project is first proposed. Once the public has been consulted, the project may have to be amended, undergo an environmental impact assessment and be offered for approval. Instead, she said, projects are approved and the public informed after the fact. "Nothing is available to us…It's really important for us as a country to learn there is no Planet B. This is our planet. This is the only chance we have."
Duncombe's impassioned plea touched a nerve among those who had gathered before heading off to work.
"I never thought of it like that before," said one power-suited man, admitting he was accustomed to thinking about the bottom line. "I guess I am so used to the way things are done that I did not realise there should be another way."
But things could be changing. A petition urging passage of a Freedom of Information Act, an Environmental Protection Act and an end to unregulated development is gaining signatures rapidly and the Save The Bays campaign is gaining "more momentum than we even hoped for," say organizers.