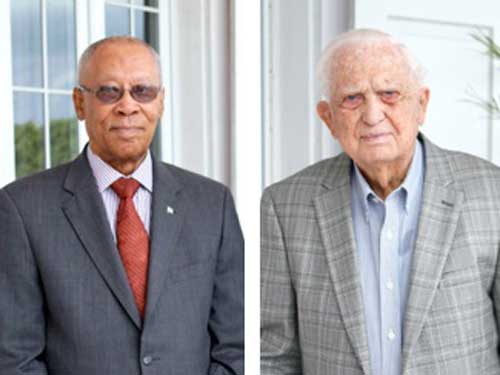 Governor General Sir Arthur Foulkes and Sir Durward Knowles talk independence, the state of the Bahamas and the future of Bahamians in A Familiar Walk's independence special on ZNS Wednesday night.
Mario Newry, the programme's creator and host, takes a nostalgic look into the post-colonial development of the Bahamas through the eyes of two icons with two different perspectives and two very different personal journeys over the last 40 years. The show airs on ZNS at 8:30pm on Independence Day.
Mr. Newry said his dream for A Familiar Walk's independence special is for it to help preserve a love of country and to promote National Pride, Bahamian Culture and History in our citizenry.
"Years ago, I wanted to create a programme that is unique in its own right , but yet is connected to a bigger plan – to record, preserve, honour and celebrate all that is Bahamian – thus the creation of A Familiar Walk," he said.  "In 1992 I was vacationing in Europe and decided to include a visit to the Bahamas High Commissioner's Office to the United Kingdom. Sir Arthur Foulkes was the Ambassador at the time, and it was there that he and I recorded the first A Familiar Walk. And so for our 40th Anniversary of Independence, I was honoured to sit with Governor General, Sir Arthur Foulkes for an exclusive interview on this momentous occasion."
The programme delves into topics such as crime and the constitution, and the way forward for Bahamians.
On the issue of youth socialisation Sir Arthur says: "When these young boys come to us for their meetings and their exercises, they don't want to leave, they love being in the presence of men they can look up to … and so it's important for us and for the men in the Bahamas who can spare the time to be mentors to these young men. The social benefits will be tremendous… there will be less murders, there will be less suicides and you will have better and productive citizens."
In celebration of the 95th birthday of Sir Durward Knowles the programme honours him and takes "a familiar walk" with a national treasure.
Sir Durward says of Bahamas' 40th milestone: "I feel we come a long way … we can do much more and as we have our anniversary we can use this time to begin to do a better job at it."
The programme will also feature a "Diplomacy In Action Segment" featuring well wishes to the Bahamas from our friends in the Diplomatic Corps and Honorary Consular Corps. Countries participating are, The Republic of San Marino, Germany, Haiti, Chile, Jamaica, Greece, Cuba, Spain, Finland, Denmark, Panama, Mexico, and Sierra Leone.  "We thank these countries for participating and wish the friendship and co-operative relations that so happily exist between the Bahamas and the countries in this segment, will grow more and more in the many years to come," Mr. Newry said.