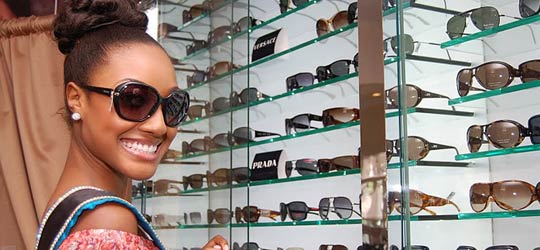 Nassau, Bahamas (MBO) August 11, 2011 – In a matter of days, Anastagia Pierre will be heading to Sao Paulo, Brazil where she will carry the Bahamian banner in this year's Miss Universe pageant, and she will do so in fine fashion after enjoying a shopping spree of a lifetime!
The saying "shop till you drop" became a reality for Miss Pierre as she received an incredible wardrobe of designer fashions, exquisite jewelry and fabulous accessories for her stint at the Miss Universe pageant, thanks to the generosity of the Atlantis Resort, its retail partners, and other leading boutiques in New Providence.  The beauty queen is now set to make an incredible showing at the prestigious competition, scheduled for September 12, 2011.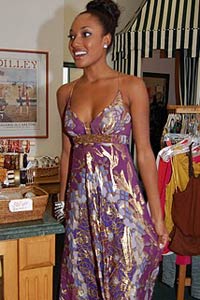 Everything from diamonds, emeralds, crystals and pearls, to fashion jewelry, shoes, daywear, cocktail, and gala dresses was provided by boutiques and department stores on Paradise Island and here in New Providence.  Leading the list of retailers was long time MBO sponsor Diamonds International which provided the queen with an exquisite earrings and necklace set worth $10,000.  Not far behind was Atlantis' Escape boutique at The Cove, which generously allowed Miss Bahamas to choose whatever she wanted in the store, capping at $6,000.  Anastagia gleamed with excitement like a kid in a candy store as retailer after retailer met her every heart's desire for a combined total of more than $35,000, which she later described as the "biggest shopping spree of her life".  Retailers who contributed to her incredible wardrobe are: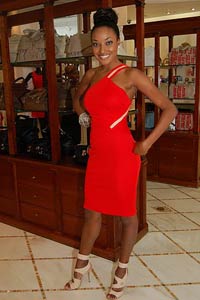 Diamonds International
Escape
Colombian Emeralds
Versace
A la Plage
Gucci
La Rose
Lalique
Coles of Nassau
Amici
Carlo Milano
John Bull
The Luggage Store
Calypso Carousel
Sacha Cosmetics
Royal Palm
Solomon's Mines
In addition to the retail stores, Bahamian designer extraordinaire Apryl Jasmine will also be contributing a few signature pieces to the Miss Universe wardrobe of Miss Bahamas.  And this year's national costume – the colorful Abaco Parrot – is being designed by Javotte Bethel of Javotte's House of Couture who created last year's award winning Flamingo costume.  Even though the fantastic wardrobe provided by local retailers is more than enough for her to make a lasting impression, Miss Bahamas' evening gown will also be a show stopper.  Designed by Eduardo de la Casas of Peru from Bravo's The Fashion Show fame, the exquisite one-of-a-kind couture creation will easily make Anastagia a stand-out.  Several key pieces of wardrobe have also been provided by La Casa Hermosa and Alisha Hill (shoes) out of the United States.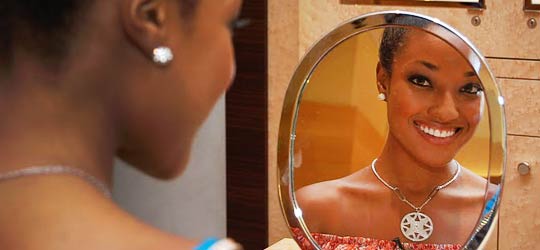 Great effort has gone into ensuring that Anastagia will be outstanding in every area of the competition. She was coached by world reknown pageant trainer Grace Fontecha who has helped 4 women capture the Miss Universe title, and last year helped the Bahamas snag its first Miss World placement in 18 years.  Her charity auction gift is also expected to draw some attention. The lucky winner will receive a 4-night stay at The Cove, provided by the Atlantis Resort.
"I would like to sincerely thank all of those who contributed to this effort, particularly during these tough times", says MBO President Michelle Malcolm.  She continued, "I would especially like to thank George Markantonis and his colleagues at the Atlantis Resort for again leading the charge for their retail partners to help us dress Miss Bahamas on the biggest stage of her life – the Miss Universe pageant.  I am confident that Anastagia is going to shake things up in Brazil, and she will certainly look like a winner in the process."
The Bahamian public will get to see pieces of Miss Pierre's wardrobe during a cocktail reception sponsored by The Beach Club Café, Sandy Port on August 20th beginning at 4 p.m.  Anastagia leaves for Brazil on August 21.