By: Gabbi Sawyer
There is a time to get dressed to the nines and go out on the town to have a great dining experience. Then there's a time when you're on the go and need to grab something quick to eat to keep from starvation.
Here are five quick and casual Bahamian bites that give you a taste of the culture without all the fuss:
1. Roasted Peanuts
Cost: $2.00 per bag
Roasted peanuts are peanuts, that are–roasted–it is as simple as that. They are sold by Rastafarians at various locations along the roadside throughout the island. This tends to be at a red light or near a gas station.
Roasted peanuts are sold in their trademark brown paper bag, and are available in three varieties–light, medium and dark. The peanuts are unsalted and are still in their husks.
2. Hot Patty + Vitamalt
Cost: $2.00-3.00 per patty
Cost $2.00-$2.50 per bottle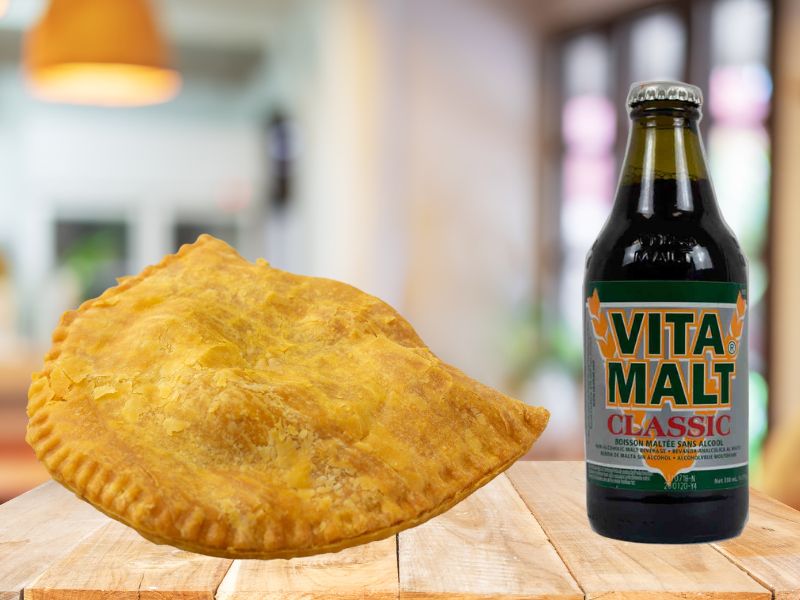 A hot patty is a flaky pastry, coloured mustard yellow (turmeric) and traditionally filled with ground beef, curried chicken or vegetables. Hot patties are good for a quick snack or a simple lunch option. They are commonly found at gas stations or a variety of local bakeries.
Typically, wherever hot patties are sold, so is Vitamalt. A vitamalt is a malt beverage that has properties of the B vitamins and it is the perfect beverage to wash down your hot patty with.
3. Conch Salad
Cost: $15.00-$18.00 per bowl
Bahamians love seafood, but more specifically– conch. I would venture to say that conch salad is the most popular of all Bahamian quick bites.
Conch salad consists of onions, green sweet peppers, tomatoes, hot pepper and tender fresh conch marinated in citrus and salt. Conch salad is mainly found at the Fish Fry at Arawak Cay.
Tropical conch salad is a modern version of the traditional conch salad, it has added fruits such as apples, pineapples, plums etc.
4. Conch Fritters
Cost: $3.00 per half dozen, $7.00 per dozen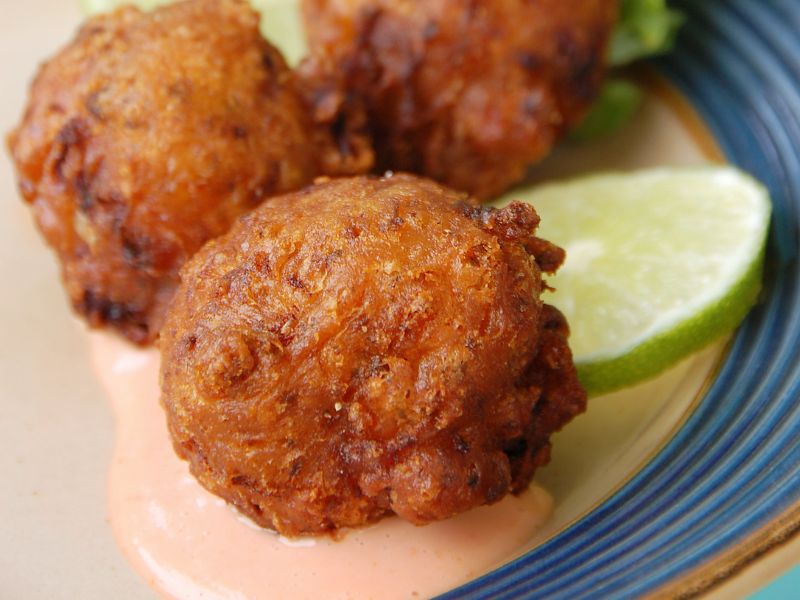 As I mentioned earlier, Bahamians love conch. Conch fritters are a batter that is loaded with onions, green sweet peppers, celery, thyme, seasonings and conch meat and deep fried until golden brown. It is served with calypso sauce (which can sometimes be spicy). Conch fritters are most commonly found at the Fish Fry along but are also served at the majority of local restaurants.
An alternative to conch fritters is veggie fritters. The concept is the same, but the conch meat is replaced with vegetables.
5. Chicken Snack
Cost: $8.00-$10.00 per snack
A 'snack' is a local term used at restaurants that indicates a fried meat that is served with fries, and topped with ketchup and hot sauce. The meat varies between conch, fish and chicken, with chicken being the most popular.
Chicken snack is also called 'Chicken in da Bag' (a reference to the brown paper bag that it is sometimes served in). Snacks can be found at most local restaurants and are sometimes served with a fluffy dinner roll.