The Bahamian Project, the three-year photography initiative that seeks to capture the spirit of the people of The Bahamas, is preparing to mark the end of its first year with 'The Bahamian Collection', an exhibition of more than 50 photographs of some of the "bright lights and raw gems" of Bahamian society.
The photography project is the brainchild of veteran and award winning photographer Duke Wells, who came up with the idea following the death of Bahamian cultural icon, Jackson Burnside in 2011.
Wells and his wife Lisa, who manages the project, realized after Burnside's death that there was nothing officially preserving the legacy of great Bahamians who had died. "There was nothing that properly said they were part of the country's history and culture," said Lisa. "It didn't seem right."
The project's ultimate goal is to create a collection of portraits that will serve as the foundation of a permanent National Portrait Gallery — much like those in Washington D.C. and London — but at the heart of the Bahamian Project is the desire to capture something that is often difficult to put into words, but may be easier to express in pictures.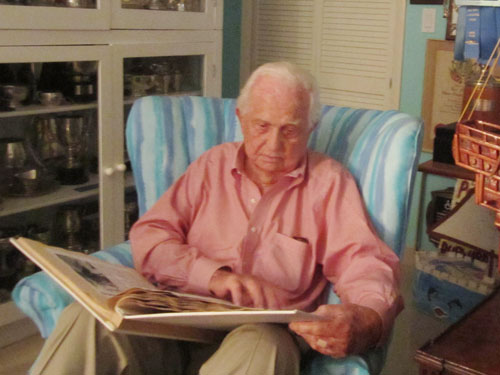 The subjects of the exhibition, which opens 6:30 p.m. Thursday, July 11 at the National Art Gallery of The Bahamas, include Bahamians and members of the community from all walks of life. What they all must have in common to be chosen is to have made a positive contribution to society and serve as a good role model.
The exhibition features well known faces such as Sir Durward Knowles, Peanuts Taylor, Kendal Hanna and Pamela Burnside, and the less well known, like 'One Hand' Stubbs seen most often at the Main Post Office, who despite suffering a tragedy at 19 — now in his 70s — has a positive story to tell. Subjects are chosen by a committee made up of representatives of the project's partners, which include the National Art Gallery of The Bahamas (NAGB) and Popopstudios International Centre for the Visual Arts and Diane Phillips. Nominations can also be put forward by filling out this form.


To mark the upcoming 40th Anniversary of Independence, 40 of the 50-plus photographs were selected to make up the core of 'The Bahamian Collection' exhibition. Those pieces are printed on canvas, 20" x 30" and framed. The remaining photographs — 16" x 24" also printed on canvas — will be displayed on a special centerpiece wall, along with behind-the-scenes photographs taken during photo sessions. Duke said the larger photos were chosen by NAGB director Amanda Coulson and chief curator John Cox, based on aesthetics and to ensure a wide cross section of Bahamian society was represented, not based on personality.
What intrigued Coulson about the project is that it will feature not just well known Bahamians but also ordinary people who encapsulate the Bahamian spirit.
"I think it will reflect where we are today, where we came from, where we're going," said Coulson. "Identity is always an issue for Bahamians and this will give people something to think about.
"It's also important for people to know that an individual can have an impact on society, whether they are a politician or a mechanic. It's important to understand the importance of an individual to society."
While the first year of the project has fallen short of original expectations — financing has been a major challenge in these tough economic times — it has been a very productive year.
One of the highlights of the first year of the project was a photography workshop for children, which was oversubscribed. The idea is to ensure there are future generations of Bahamian photographers who will go on to capture future 'great' Bahamians. The initiative also exposes young Bahamians to dying art of fine art portraiture.
"My goal is to create an army of young photographers to photograph their neighbors, their community," said Duke.
The Bahamian Project was not able to make it to the Family Islands in its first year due to a lack of funds, but it hopes to capture Family Island subjects in the second year of the project. The first islanders to be photographed are from Cat Island, Abaco and Grand Bahama.
Another aspect of the second year of the project is to invite other local photographers to contribute to the project, and eventually create collections within The Bahamian Collection.
Duke hopes that exhibitions will also be staged at the end of the second and third years of the project, but in addition to the exhibitions, more free workshops and seminars will be held to raise awareness of portrait photography and to attract more interest in the project.
Good portraiture photography captures the character and essence of the subject, said Duke. "It doesn't just make a person look good; it captures character."
He said: "Some of the great Bahamians who formed the country's identity are still alive and can be captured in this project."
And for those great Bahamians who have already passed away, it is hoped that a good portrait painter will be commissioned to paint those portraits from a selection of snapshots.
At the end of the project there are plans to produce a coffee table book and a documentary of the process. The entire collection of photographs will be given as a gift to The Bahamas to be housed at an appropriate institution.
By Erica Wells
The Nassau Guardian