The Watergate-era Foreign Corrupt Practices Act is exceptional for its global reach.
By: Douglas Gillison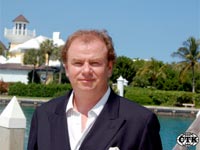 The frizzy blond, Harvard-educated "financier" lives in a $29 million home in the ultra-posh Bahamas gated community of Lyford Cay. The home features a $13 million pool-with-office-bar-and-underwater-cavern.
Kozeny's other assets have hardly been less ostentatious: a $20 million Austrian-style mountain villa in Aspen, where Natalie Cole once serenaded potential investors; a six-story, $21 million London house purchased from Andrew Lloyd Webber; and a private Bahaman island he could, in theory, visit via his own classic Grumman G-73 Mallard amphibious plane.
He once spent $96,000 on a meal for six while traveling the world in a private jet, Bloomberg reported.
Oh how the mighty have fallen.
The island, called Hall's Pond Cay, and a large slice of this wealth outside the Bahamas (though almost certainly not all of it), are gone, having been seized or sold off. For 19 months between 2005 and 2007, Kozeny was held at Her Majesty's Fox Hill Prison in Nassau — where tuberculosis was rife, and the dark, fetid cells were badly overcrowded and had little plumbing, according to Amnesty International.
Last year, after a favorable ruling from Britain's Privy Council, Kozeny finally learned that he had defeated extradition to the United States. He remains wanted, however, and reportedly has not left the Bahamas in 14 years.
Paying hundreds of millions of dollars in bribes in Azerbaijan in a failed 1998 scheme to privatize a state oil company there.
Kozeny is one of a growing cohort of allegedly corrupt fugitives from US justice – wealthy executives and others accused of paying bribes outside the United States, who consequently remain outside of its jurisdiction.
For 35 years, the United States has banned bribing foreign public officials, under the Foreign Corrupt Practices Act. The Watergate-era statute arose after SEC and congressional investigations revealed that more than 400 companies had bribed officials the world over. That was seen as bringing shame to the US business system and creating scandal in allied countries such as Japan, Italy and West Germany.
The Justice Department says that since 2009 it has convicted more than three-dozen people on foreign bribery charges and has imposed $2.5 billion in corporate fines.
The law is exceptional for its broad reach. Privately held foreign companies whose corruption does not involve the US are outside its jurisdiction. But US prosecutors can pursue other companies, and their employees, including foreign companies whose shares are publicly traded here. As a result, non-US citizens employed by, or colluding with, non-US companies can be imprisoned in the US for bribery committed in third countries.
Despite the law's breadth, the case of the Czech-born Kozeny underscores the challenge of arresting some international bribe payers, even if prosecutors are capable of seizing assets and making life miserable for defendants.
Kozeny does not contest the heart of the Justice Department's case, and freely admits the corrupt nature of his Azerbaijan investment scheme. When investors sued in the US and UK, he raised an "unclean hands' defense, claiming they were fully aware of his corruption. He says he had flown in Pharaonic sums of money to Baku using private jets in a conspiracy to pay off local officials (including, it was alleged, President Heydar Aliyev). "Who in their sound mind would otherwise fly $200 million in cash to the world's third-most-corrupt country?" he told Bloomberg in 2008.
In their 2005 indictment, prosecutors said Kozeny fell under their jurisdiction because he had acted on behalf of US investors and companies. However the UK Privy Council in London, the final arbiter in the extradition process, found that the US charges were not extraditable because they "would not constitute offences against the law of The Bahamas if they took place within The Bahamas.'
Kozeny's defense attorney, celebrity New York lawyer Benjamin Brafman, told GlobalPost his client one day expected to be able to travel freely again.
"Mr. Kozeny has always maintained that as a non-US Citizen, the FCPA did not apply to him and accordingly he never violated the laws of the United States,' said Brafman, who recently defended former International Monetary Fund Managing Director Dominique Strauss-Kahn in his sexual assault scandal. "Mr. Kozeny believes that he will ultimately be able to travel freely, as to date, we have successfully defended him in every court in which his case has been reviewed."
As in Kozeny's case, extradition commonly requires that the charge be recognized in both the requesting and the harboring country. But, while 40 countries are parties to an international convention to criminalize foreign bribery, transnational bribery was not a crime in the Bahamas, thwarting extradition.
Thus, the lack of "dual criminality," as it is sometimes called, can be a major obstacle in the extradition process. On a more practical level, in developing and often corrupt countries, it may simply be easier to disappear.
Other FCPA fugitives include Jald Jensen and Bernd Kowalewski, former BizJet executives suspected of paying backhanders to Mexican, Panamanian and Brazilian officials. According to court papers, Jensen apparently slipped through the hands of Panamanian police earlier this year, likely never to be heard from again.
James Tillery, a former executive at the Houston oil pipeline contractors Willbros Group, has been wanted for alleged bribery in Nigeria and Ecuador since 2008. Some press accounts indicate he renounced his US citizenship and became a Nigerian national to avoid extradition.
Elsewhere, six Germans and two Argentineans were charged in 2011 with paying bribes in Argentina on behalf of Siemens. While the parent company paid $1.6 billion to settle this and other allegations in 2008, these suspects have yet to be extradited. (Germany, like many countries, almost never extradites its own citizens.)
In practice, one challenge for US prosecutors may be getting foreign courts to take corruption seriously. According to Michael Abbell who served as the first director of the Justice Department's Office of International Affairs on its creation in 1979, some judges in other countries may view corporate crime as less serious. "I think white-collar cases aren't viewed the same way as crimes of violence or white powder cases," said Abbell. "When you get in the white-collar area, there are more potential defenses, the evidence may be viewed more carefully."
And so, despite its broad reach, numerous cases still involve individual defendants who likely will never be caught.
The Justice Department declined to release statistics on suspects sought and extradited to the US for foreign bribery. But extraditions have as often as not proved frustrating for Washington, according to attorneys. Without official numbers, it is difficult to say how big the bribery fugitives club has gotten. It appears likely to include dozens of suspects.
"The department, by being aggressive in seeking to charge more individuals, does potentially create this pool of charged defendants who are very difficult to reach," said Robertson Park, who as a federal prosecutor worked on Kozeny's case and is now in private practice in Washington, D.C.
"I think it will grow."
Park, who at trial in 2009 won the conviction of Frederic Bourke, a Kozeny co-conspirator, said the fact that Kozeny got away was particularly vexing. "Kozeny was the principal. This is the guy whose plan it was,' said Park. "The fact that he hasn't faced any criminal consequence is very frustrating.'
"You live with it and move on."
By Douglas Gillison, GlobalPost
Douglas Gillison covers foreign bribery for Main Justice in Washington, DC.