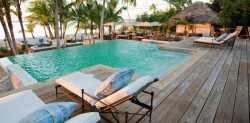 Small Luxury Hotels of the World (SLH) has extended its global reach to include Kazakhstan, Lebanon, The Grenadines, Antigua, the Spanish resort of Marbella, and the US state of Texas. What's more, after many years of exploration, SLH has found hidden gems in the Bahamas and Hawaii, which were previously among the most unfulfilled search requests on slh.com.
The SLH team has also identified the very best in boutique hotel openings in 2013, with brand new properties joining the portfolio over the past few months.
New SLH Destinations
Tiamo Resort, The Bahamas: The first SLH resort in The Bahamas, Tiamo is an exclusive paradise that is only accessible by boat or seaplane and has just 10 villas hidden around the resort. It's a luxury eco-resort with a private pristine white sand beach, lush green palm groves and clear turquoise waters. The tropical surroundings offer guests opportunities to sail, fish, snorkel, scuba dive or simply relax on one of the Caribbean's best beaches, while the dining serves carefully crafted Caribbean and fusion cuisine, made using the freshest local and organic ingredients.