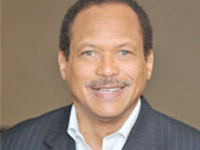 Amidst aggressive plans for an upturn in overnight visitor arrivals, beginning Fall 2013, the Directors of the Grand Bahama Island Tourism Board unanimously elected international hotelier Russell Miller to head the organization as chairman.
"Grand Bahama is projected to become the fastest growing tourism destination in the Islands of the Bahamas in 2014, and Russell Miller's timely appointment as chairman will help to facilitate an effective public-private sector partnership, to which the Ministry of Tourism remains committed."  Said Director-General of Tourism David L. Johnson.
The Reef Village is scheduled to re-open in November 2013 as an all-inclusive 5 star Blue Diamond Resort, supported by increased air services from the U.S. and Canada, provided by Delta Airlines and Sunwing; followed by additional programs in May 2014.
Miller who accepted the position, said there is a lot of competition in the market place and he was indeed pleased to "facilitate the growth and development of the tourism industry in Grand Bahama, which will require the consensus and full cooperation of all board members".
Mr. Miller's extensive experience in hotel operations began in 1979 when he joined Marriott International as a restaurant manager in Newport Beach, California. In 1987 he returned to the Bahamas where he worked in food & beverage at Divi Bahamas Beach Resort & Country Club, with subsequent positions at Carnival's Crystal Palace Resort & Casino and the Radisson Cable Beach Casino and Golf Resort.